Many new  tweaks were released in Cydia today that have been especially crafted to make the iOS experience better. Most of these new tweaks change the way how iOS looks giving users an opportunity to change parts of the radically redesigned iOS version according to their likings. In this post we are going to feature Bloard, 7Folder Relayout, Flat Notes, MusicalSwitcher, Photo Blackground and SMS On GV 7. Read on to learn about what these tweaks do.
Bloard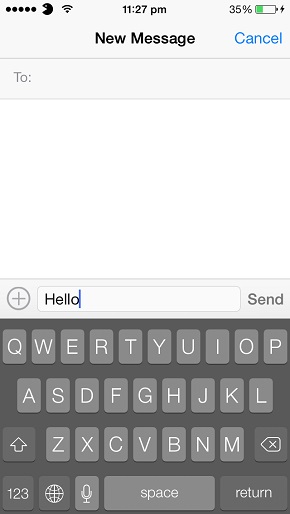 Want to replace the white keyboard of iOS 7 with the black one? If yes then grab Bloard tweak from Cydia. It simply replaces the usual white keyboard of iOS 7 with the black one. The changes are made system wide and the tweak adds no settings to configure. You can download Bloard it for free.
BlurBar

The BlurBar tweak adds a blur to the status bar. This tweak has only one function and is meant for those who like the blur effect found on iOS 7. BlurBar can be downloaded for free.
Flat Notes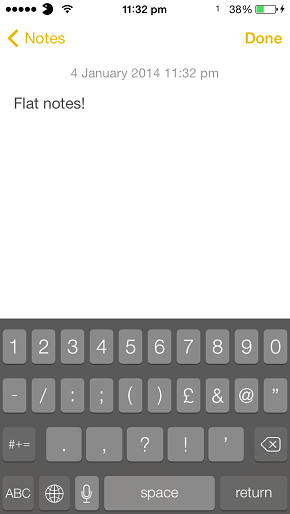 Personally speaking I really hate the fake paper texture found in the stock notes app of iOS 7. The Flat Notes tweak simply removes the texture giving users a simple and more minimalistic app to write on. Flat Notes is a free download from Cydia.
MusicalSwitcher
MusicalSwitcher is a fun tweak for jailbroken iOS devices that turns the multitasking app switcher of iOS 7 into a piano. Users can swipe down on any running app's card to produce a note. The tweak also allows users to replace the audio .m4a files with sound effects of their own from /Library/MusicalSwitcher. There are no options to configure for this tweak. It is available for free under the BigBoss repo.
Photo Blackground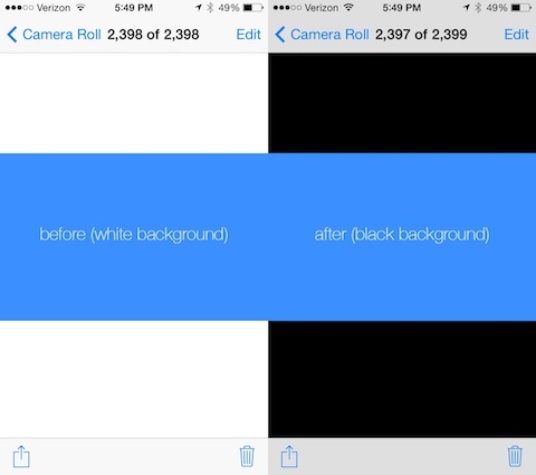 One of the most annoying things about iOS 7's Photo app is the white background that appears while viewing photos. Photo Blackground tweak replaces the white background with the black one making it more comfortable for users to view their photos. Photo Blackground tweak requires iOS 7 and is free as well.
7Folder Relayout
The 7Folder Relayout tweak makes iOS 7's folders like they should have been in the first place. It enables folders to house 4×4 icons on one page as opposed to 3×3. Users can also configure background blur effect, wallpaper zoom depth and create nested folders. 7Folder Relayout is a commercial tweak and can be downloaded for $0.99.
SMS on GV 7
SMS on GV 7 is not a new tweak however it just got updated for iOS 7. This tweak integrates Google Voice into iPhone, iPad or iPod touch's iMessage app. It is a great tweak for those who use Google Voice a lot or for iPod touch and iPad Wi-Fi users who do not have the cellular capabilities. It also supports BiteSMS and Messages+ jailbreak tweaks. You can download it from Cydia right now where it is available for $2.50.
More round ups like this