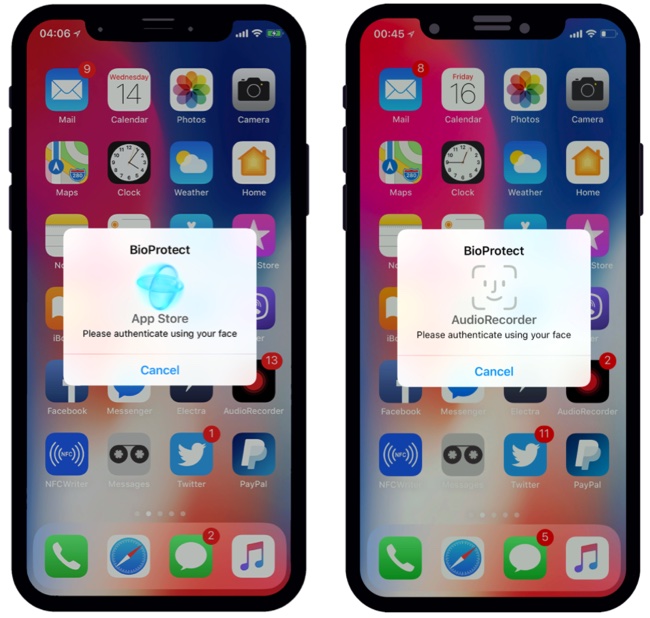 Any longtime jailbreak user would be familiar with the popular BioProtect tweak. Good news is this popular authentication tweak for iOS has been updated to fully support iOS 12 and is now available for download. Anyone who has a jailbroken iOS 12 device can now go ahead and download BioProtect XS (iOS 12) tweak on his or her device.
For those of you who are not familiar with what BioProtect XS does, it is an authentication tweak that allows users to protect certain apps and sections of iOS with biometric authentication. Once  an app has been protected with BioProtect XS, the device will require the user to authenticate using Face ID, Touch ID or passcode before the app can be accessed.
BioProtect XS isn't the only app locking tweak for jailbroken devices however it is certainly one of the best due to its polished implementation, speed and design. And with Face ID support it has become more convenient since your device automatically authenticates you as soon as you launch an app with a facial scan, without requiring any extra effort from the user.
With BioProtect XS tweak you can protect several parts of iOS including apps, folders, flipswitches, Settings, Control Center, power down, SIM unlock and more.
You can download BioProtect XS tweak for iOS 12 from Cydia where it is available for $2.99. A separate version of the tweak is also available for iOS 11 or lower.
Disclosure: iOSHacker may receive a commission if you purchase products through our affiliate links. For more visit our privacy policy page.