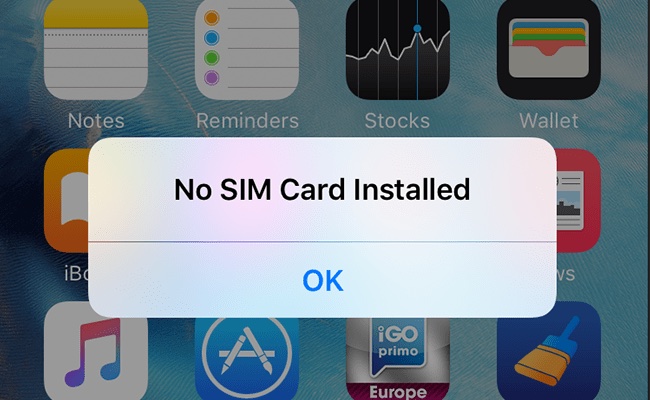 If your iPhone is acting up and giving you the very annoying Invalid SIM or No SIM Card Installed errors even when you have a fully functional SIM card inserted, then you have come to the right place. In this iPhone step by step and detailed tutorial we will show you how you can solve SIM errors on your iPhone and enable the all important functionality.
There are a number of solutions that can solve the Invalid SIM or No SIM Installed errors. By performing these solutions you should be able to solve network connectivity problems on your device and be able to use the cellular call and Internet services on your iPhone. Read on to learn about them.
Is your iPhone SIM working? 
The first thing that you should make sure is the SIM card you have inserted in your iPhone works and is valid. A lot of times the SIM card becomes inactive when you have not used it for several months or gets deactivated by the carrier due to non payment. You can make is the SIM you are inserting into the iPhone valid and working by inserting it into a different phone and making a phone call with it.
Fix SIM Errors by Restarting Your iPhone
More often than not the connectivity issues can be resolved by restarting your iPhone. A restart will reset your iPhone's hardware and software and could potential solve the No SIM Card Installed issue with your device. You can even try to hard reset your iPhone to make sure you cover all grounds.
Try removing and reinserting SIM card
If your iPhone still won't connect to your cellular network, then try removing the SIM from the SIM tray and insert it again. This may sound like a super simple solution but trust us this can work and solve the problem for good. Also make sure that the SIM tray fits perfectly in the SIM port of your iPhone.
Try with a different SIM card
You can try to fix No SIM card installed problem by trying out a different SIM card with your device. If you have a different SIM card lying around or if you can borrow one from your friend, then insert a different SIM card to see if it is working or not. If the other SIM card works, then it means the problem is with your SIM card and not with your iPhone. In this case contact your carrier for a replacement SIM.
Check for Carrier Settings Update
Does your iPhone require a carrier settings update? You can check this by going to Settings -> General -> About. When you open this page and an update is available you will get an alert. Simply tap on OK or Update buttons to apply the update.
Make sure you are running latest software
You should install latest version of iOS on your device to make sure you are not having a software related problem. To see if there's any update available go to Settings > General > Software Update.
Reset Network Settings
This is perhaps the most effective solution to the No SIM Card Inserted problem faced by the iPhone users. You can try to reset network settings on your iPhone to solve SIM connectivity issues. To do so, go to Settings > General > Reset. Then tap on 'Reset Network Settings' option. After reseting the network reboot your iPhone and try inserting the SIM card again.
Restore your iPhone
There are very few issues that a good old software restore cannot fix on an iOS device. Use iTunes to put your iPhone in DFU mode and Restore or Update it to the latest available software. This will reinstall the software on your device and potentially solve the No SIM or Invalid SIM card error.
Still getting No SIM or Invalid SIM card errors? Contact Apple support.