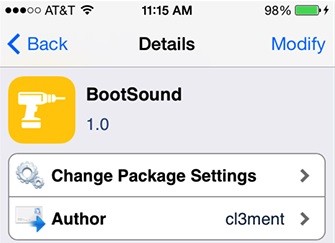 Most smartphones or tablets other than iPhone or iPad happen to have a unique start up sound that is played whenever a device is turned back on. Every company tends to have its unique boot up sound for all of its devices such as Nokia's famous boot sound that used to play on all of its smartphones. On OS X Apple had a nice chime sound that plays whenever you turn on your Mac.
If you miss the good old days in which all your gadgets had unique boot sounds then you should check out the BootSound tweak from Cydia. This simple tweak adds the Mac start up chime to iPhone, iPad or iPod touch that is played whenever the Apple logo appears on the screen. The tone is also played whenever user resprings his or her device.
A great feature of this hack is that it does not work when the device is in silent mode, which means you don't have to worry about the sound when you don't want your device to ring.
You can grab BootSound tweak from Cydia for free. It is found under ModMyi repo.