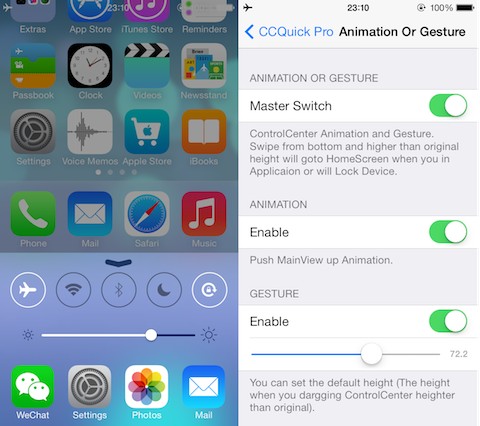 If your iPhone is jailbroken and you have not heard about CCQuick Pro, then you are missing out on an amazing tweak. The hack that has been around for a while and recently got updated allows users to customize the look of their device's Control Center and add new features to it. With CCQuick Pro you can add new toggles for settings, change the way buttons look, add new apps in the utility bar, change animations and much more.
If you don't like the default background of the Control Center, then using this tweak you can change the background color by RGB or alpha. You can add 15 toggles to the toggle bar along side the ones that are included by default. So you get to add toggle for location, cellular data, edge, ringer, hotspot, VPN, auto brightness, autolock, location faker and vibration. CCQuick Pro also adds a number of gestures to Control Center that will allow you to quit apps, lock device etc. You can also hide certain parts of Control Center that you don't use in order to make it look more minimalistic.
You also get to add new shortcut gestures to the top section of the Control Center, so with CCQuick Pro you can swipe up to pull the Control Center further to lock your iPhone, double tap on it to access app switcher, hold screen to capture or return to homescreen.
You can download CCQuick Pro on your iOS 9 device from Cydia. It is available for $2.99.