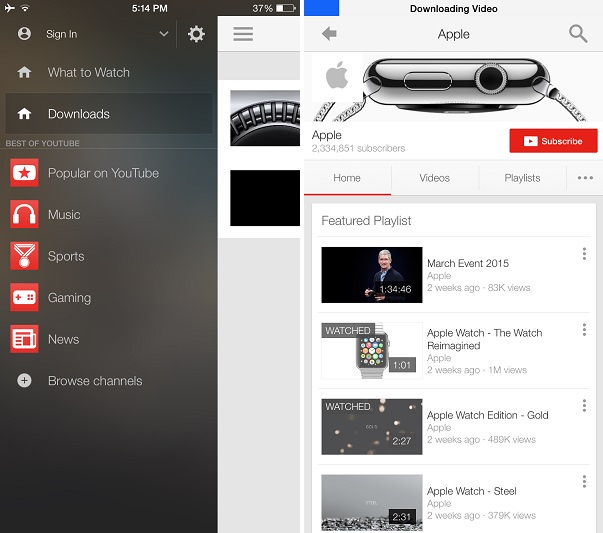 Youtube does not allow users to download videos from its website and same is true for the iOS app. This annoys its users who are constantly looking for hacks that could enable this feature for them. If you are a Youtube app user who is looking for extra features in order to boost its capabilities such as downloading videos then the new Cercube tweak is all you need. This tweak brings a number of super useful features to the official Youtube app for iPhone and iPad that can really change the way you use it to watch online videos. The tweak is integrated well within the app's user-interface with 'Downloads' section being accessible through the side pane.
The most notable feature of the tweak is that it allows users to download their favorite videos from the social video sharing website, which means you can save them for offline viewing as well as share them elsewhere. Not only can you export that downloaded video to the Photos app of your device but you can even export it to the Music application, where you will be able to enjoy it as an audio. This is great for downloading audio songs from Youtube on the iPhone.
Cercube also brings the missing background playback feature to the native Youtube application so after installing it you will be able to listen to the audio of currently playing video even when you are using some other app or the device is locked.
In addition to the useful features mentioned above the tweak features ad blocker, which essentially blocks video ads that play before a video, ability to switch to HD or choose a resolution for playback while using cellular data and the ability for users to bypass age restrictions on Youtube.
Cercube is a must have tweak for any Youtube app user. If you are interested then you can download it from Cydia for $2.49. It works on iOS 7 and iOS 8 iPhones, iPads and iPod touch.