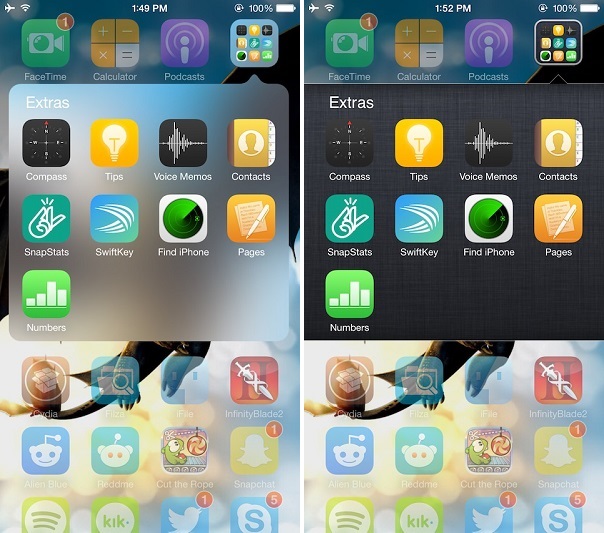 Those of you who have used iOS 6 would remember that the older version of iOS had a totally different design for folders than what we have today. On iOS 8 and iOS 7 the folders open in a separate page displaying icons in a fullscreen mode. This was significantly different in iOS 6 where they used to expand and display all the icons inside them right on the homescreen. Many users still prefer having the classic style and have been asking developers to bring it back. Luckily for jailbreak users a new tweak called ClassicFolders has been released that allow them to have the old folder design on iOS 8.
ClassicFolders as its name suggests brings the classic look of folders to iOS 8 as well as iOS 7. Users can choose from a variety of different styles that have been inspired from OS X Mavericks, modern blur look of iOS, folders of iOS 4.0 beta 1 etc. There are different appearance related settings that you can configure to get the perfect look such as you can enable or disable dark tint, icon outline as well as have classic icon shape.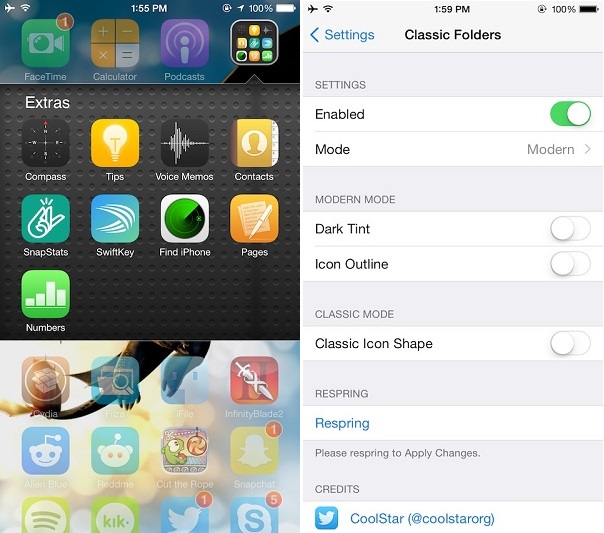 ClassicFolders tweak for jailbroken iPhones, iPads and iPod touch is available in Cydia for $0.99 and it works on all devices running iOS 8 or iOS 7.