The best thing about Cydia is that if your device is jailbroken you will always find something new and useful to install. As significant amount of time has passed since the release of jailbreak, lots of new iOS 7 compatible tweaks have been released while most of the popular ones have been updated to support the new operating system.
There are tons of tweaks that are made specifically to allow users change particular parts of iOS. One of the areas of the operating system that receives most attention from jailbreak developers is the homescreen.
Over the past few days several new hacks for this part of iPhone or iPad were released in Cydia. In this post we have featured some of the best new homescreen tweaks that we think you should check out. This includes ColorBadges, AppETA, Cylinder, Mobius and WeatherBoard.
ColorBadges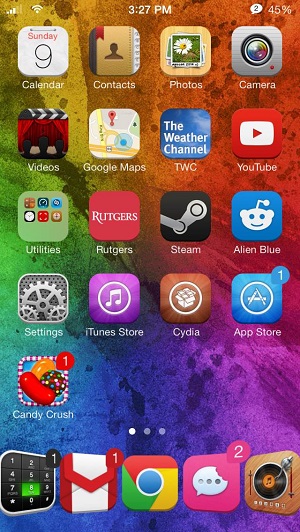 ColorBadges is still an upcoming tweak but we had to include it in this post because its quite awesome. With this tweak you can colorize the badges for different apps based on their icon color. As seen in the screenshot above the App Store badge is blue while the badge for the BiteSMS is pink. Once released ColorBadges will cost $0.99.
AppETA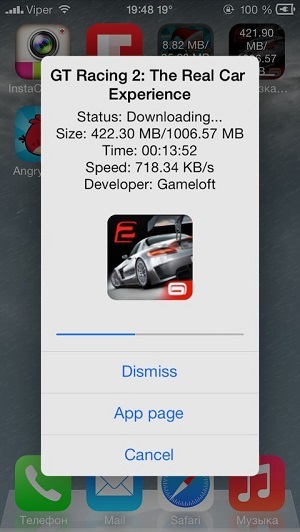 Downloading new applications on iOS from the App Store is as simple as it could get. However when the download is in progress user is only shown a progress circle that tells how much has been downloaded and how much is left. There's no way to get any other kind of information about the download. A new tweak called AppETA fixes that problem by showing status, size, download speed, remaining time and name of the developer to the user.
The popup with all this information can be accessed simply by double tapping on an app's icon i.e. currently being downloaded. AppETA features some really nice customization options that allow users to change the look of the pop up as well as bring back the classic progress bar from iOS 6. AppETA is available in Cydia for $0.99 and requires iOS 7.
Cylinder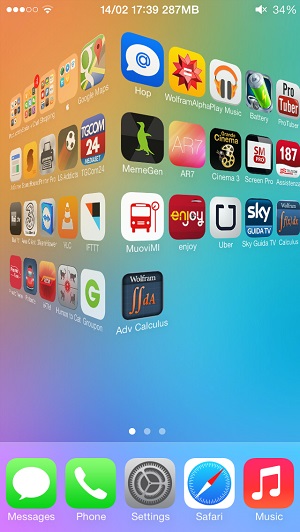 Cylinder is a new tweak that is similar to the popular Barrel tweak. It allows users to add fun animations to their homescreen. The animations appear when user jumps from one page to another. You can select from a wide range of available options or easily add new ones. Cylinder is available in Cydia for free.
Mobius
Moving icons from one page to another is a very painful process. You have to pick each icon and drop it to the other page, and repeat the process for every icon you want to move. Mobius tweak fixes that problem by allowing users to move multiple icons at once. As seen in the demo video above users can select all the icons and want to move and simply move them to another page. But that's not all as Mobius also allows users to have infinite scrolling on their device. So you can keep on scrolling towards right or left and come back to the first page once you reach the last page. Mobius is available for free in Cydia.
WeatherBoard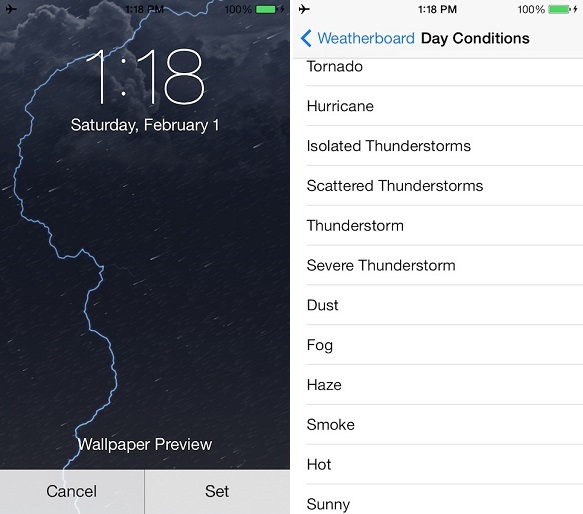 WeatherBoard is an amazing iOS 7 tweak that brings dynamic weather effects wallpapers to the lockscreen and the homescreen. With WeatherBoard users can apply a dynamic wallpaper on their device that matches their current weather condition. Some of the available weather conditions include thunderstorms, fog, sunny, snow showers, blizzard and more. This tweak includes over 80 different animated weather wallpapers. WeatherBoard is available in Cydia for $1.49.
Disclosure: iOSHacker may receive a commission if you purchase products through our affiliate links. For more visit our privacy policy page.