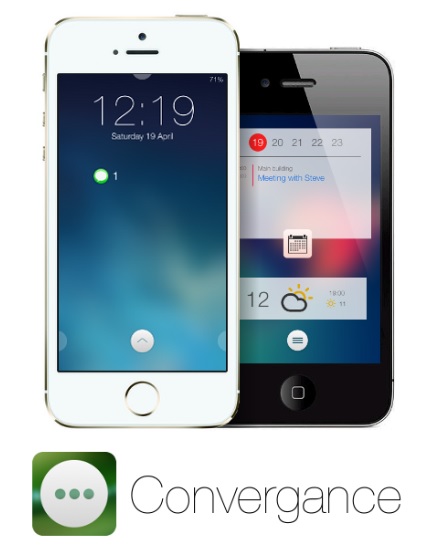 Convergance tweak has been released in Cydia and is now available for download. It aims at simplifying the lockscreen experience and adding new features that are not available by default. Convergance completely replaces the default lockscreen and makes it more useful. First introduced to us back in January Convergance is a standalone tweak, which means it does not rely on other tweaks such as WinterBoard. It currently supports iPhone and iPod touch only, no iPad support for now.
Convergance adds a modernize look to iPhone's lockscreen and packs features such as widgets, shortcuts, redesigned notifications and shortcuts to system settings that help in making user's life more convenient.
The widgets found in the Convergance tweak focus on providing information to users right on the lockscreen so they don't have to unlock their device unnecessarily. It gives access to bits of information through dedicated widgets for Calendar, Weather and RSS. While all of these widgets are included in the tweak by default more widgets will be released in Cydia as add-ons to boost the tweak's functionality.
This slideshow requires JavaScript.
It also supports themes that enable users to personalize the look of their lockscreen. Along with themes the tweak also features support for HTML based lockscreens that includes GroovyLock, LockHTML and Cydget.
You can download Convergance for your iPhone or iPod touch for $2.50. It is available through the ModMyi repository.