Another day another round up of notable tweaks that have been in Cydia with iOS 7 compatibility. The tweaks we are featuring in this post add both useful and fun features to iOS making the experience of using even better. These notable tweaks are available for download right now and most of them are free. Learn about them below.
CCQuick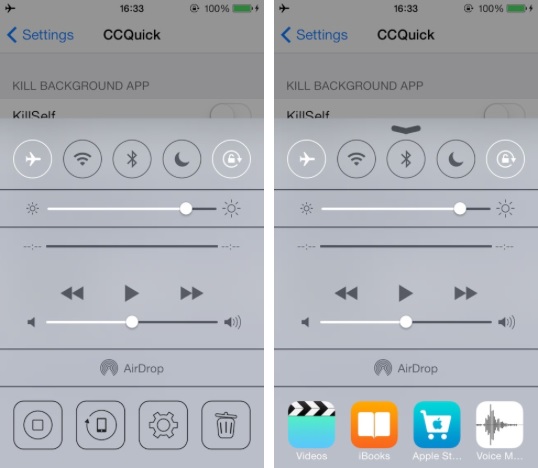 The CCQuick tweak for iOS 7 enables users to add new buttons to the Control Center's app shortcut bar. This tweak adds a virtual home button, a button to respring the device, a button to access hidden springboard settings and a button to kill all apps running in the background. All of the buttons it adds to the Control Center are pretty useful and make life much easier for the user. It is available for free.
Ringdom
Ringdom is the first paid tweak that we have featured in our iOS 7 tweak round ups. This tweak has a simple function, which is it allows jailbreak users to select multiple ringtones at once and plays them randomly on each call. The tweak supports both voice and Facetime calls. Users can set both custom and stock ringtones using this tweak. It is available for $1 in BigBoss repo.
MapsAllCountries
Apple's turn-by-turn navigation not available in your country? Don't worry MapsAllCountries is here to help. This option-less tweak simply enables this very important feature in countries that are not officially supported. All you have to do is install the tweak and respring the device. It supports both iOS 6 and iOS 7 devices. You can download it for free from Cydia.
Percentage
Don't like the battery percentage indicator in the status bar but find it useful? Percentage tweak prevents it from appearing in the status bar all the time and only shows remaining battery in percentage when it is less than 20%. A Simple yet useful hack. It is available for free.
NoSlowAnimations
There are all kinds of people in the world. There are those who feel motion sickness and get nauseated after using iOS 7 due to its animations while others find them very slow. If you fall in the later category then install NoSlowAnimations on your iOS device. This tweak has significant affect on how apps are opened and closed making the process much faster than it is by default. After using it I would recommend this tweak to anyone who likes iOS 7's animations. It is available for free, too.
Open In App For Photos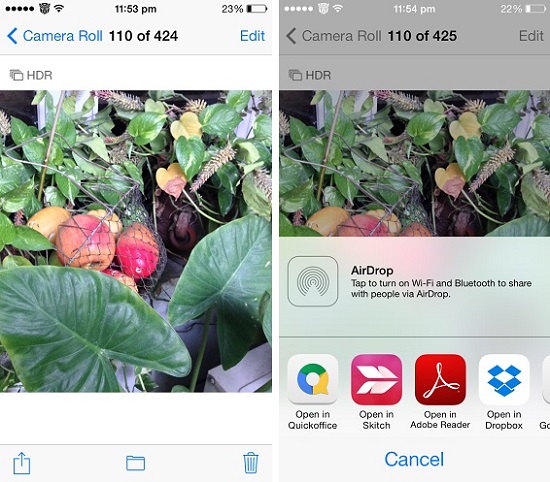 Open In App for Photos tweak adds a nice little feature to the stock Photos.app allowing users to directly export any photo to any app of their choice that supports image import feature. It adds a small folder icon (see bottom of the first screenshot) and brings up a sharing menu when user taps on it. It is a nice tweak that adds a really useful feature to one of the most important stock iOS apps. Its also a free tweak.
More lists