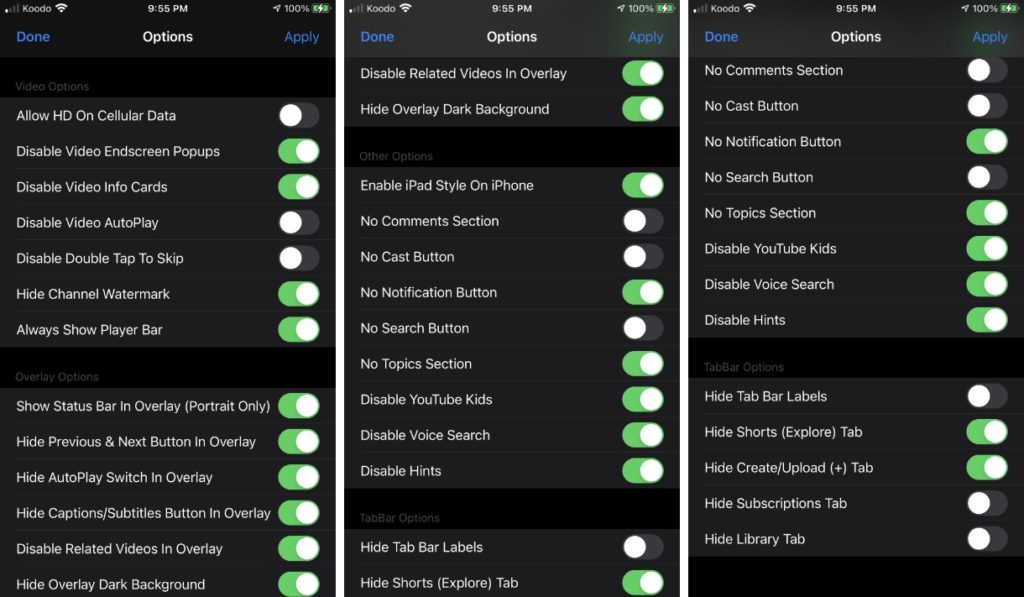 We have covered many jailbreak tweaks that aim to bring YouTube Premium exclusive features to all users in the past. However the newly released tweak called Enhancer for YouTube Premium is the first hack that is bringing more features to YouTube Premium.
Since the tweak is an Enhancer for YouTube Premium, it requires the user to have YouTube Premium membership. If you own a subscription to Premium and have a jailbroken iPhone or iPad, then keep reading.
With this tweak you get a ton of new features on YouTube Premium. With this tweak you get to disable and hide various features that you may find annoying or useless.
For example with Enhancer for YouTube Premium tweak you can disable things like Endscreen popups, video info cards, autoplay, double tap to skip, related videos in overlay, Voice Search, YouTube Kids and more.
The tweak also lets you hide certain elements of the YouTube app in order to make it more suitable for you. With this tweak you can hide channel watermark, previous or next buttons, hide autoplay switch, captions and subtitles button, overlay dark background, comment section, cast button, notification button, search button, topics section, top bar labels and hide Shorts tab.
Enhancer for YouTube Premium also adds a number of features to the YouTube app such as ability to watch HD videos on Cellular network, always show player bar, show status bar in overlay, enable iPad style on iPhone and more.
You can download Enhancer for YouTube Premium tweak for your jailbroken device from the Chariz repo, where it is available as a free download. It works with iOS 13 up to iOS 14.7.
More iOS 14 tweaks: