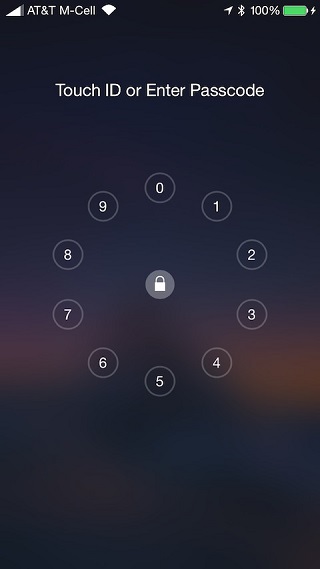 Those of us who care about their privacy use the passcode lock on their devices. The stock passcode screen that can be accessed by sliding on the lockscreen features a keypad with rounded buttons. There's nothing extraordinary about it, however if you are looking for something that would make your device stand out and give you a different experience in terms of both usage and appearance then try the new EpicCenter tweak from Cydia. This new alternative passcode lock screen features Apple Watch inspired design and smooth animations that make it purchase worthy.
When you slide on the lockscreen the EpicCenter passcode keypad appears complete with its expanding animation. You can then tap or drag on the keys to enter the code. You can delete a number by tapping on the lock button located in the middle in case you enter a wrong digit.
EpicCenter tweak comes with a range of customization options allowing you to resize the diameter of the buttons and the input area, scramble button positions and more. The options focus on customization of the tweak, giving you more control over it.
You can download EpicCenter from Cydia, where it is available for $1. It works on both iOS 7 and iOS 8 powered devices.