Over the past couple of years, Apple has removed several built-in features when they release new iOS updates. One of these were the fully charged indicator in your status bar. Unfortunately, for some reason, Apple decided to not have that indicator anymore, starting from iOS 8. But the good news is, anything is possible when your iPhone or iPad is jailbroken. With that being said, the recently released FullyCharged tweak will help you bring back the legacy feature that Apple got rid of in iOS 8.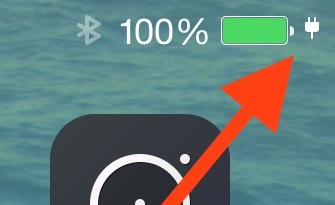 FullyCharged is a new jailbreak tweak that does what we just mentioned above. Displaying the fully charged indicator when your iOS device is actually at 100%. Normally, an iPhone or iPad will just display the battery level at 100% when in reality it's just around 99%. This is not helpful at all because you won't be able to know if your device is fully charged or not. Even if it is, you will just continue to see a regular lightning bolt, that will cause some confusion.
FullyCharged tweak wants to change that and will replace lightning bolt with a charging plug whenever your iPhone or iPad is completely at 100%, meaning done charging, and good to be disconnected from the cable.
You can go ahead and download FullyCharged for free from the BigBoss repo. This tweak is compatible with iOS 8 – 8.4 and there are no options to configure.