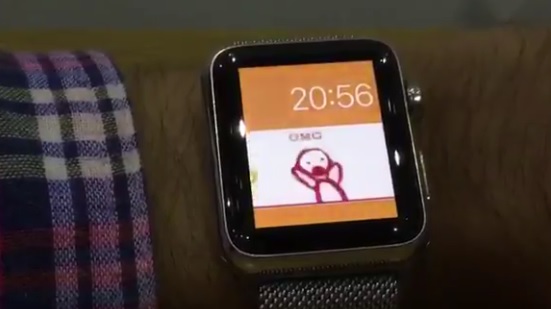 If you own an Apple Watch, used a friend's or have attended Apple's in-store try on sessions you would know that the device comes with several watch faces. However users cannot add new watch faces to their devices as Apple does not allow third-party developed faces on its wearable device. That might change soon as iOS hacker Hamza Sood has tweaked his Apple Watch to add custom watch faces to it.
The hack was performed on the a device running beta of watchOS 2, which will be publicly released next month. The watch faces Hamza added to his hacked Apple Watch seem basic but they do show animated images and customizability. This alone shows the potential of having third-party developed watch faces on the Apple Watch. Having this customization feature will allow users to completely change the main screen of their device with whatever they like, rather than being stuck to limited options Apple provides right now.
After some haxx… Custom watch faces on Apple Watch!

Watch face source code is on GitHub:https://t.co/7ZvOz8nK34 pic.twitter.com/nQGJKlp6kt

— Hamza Sood (@hamzasood) August 18, 2015
This is not the first time Hamza Sood has hacked his Apple Watch to change how the device works. Previously we reported about the hack that Hamza and other developers made, allowing them to natively run third-party apps on watchOS.
While hacking is exciting, we really hope Apple will reconsider its stance of not allowing third-party developed watch faces on watchOS. This way more people will be able to download them on their device and with the ease of the App Store.