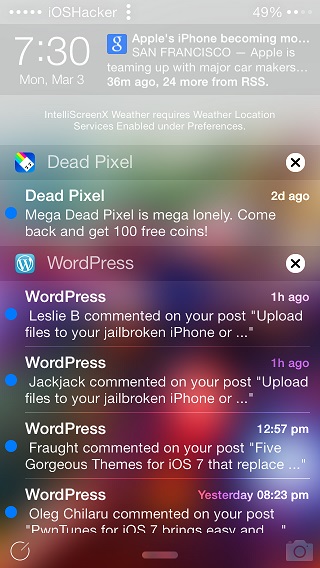 One of the most anticipated and awaited iOS 7 tweak IntelliScreenX 7 has finally been released and it is now available in Cydia for download. For those of you who don't know already the IntelliScreenX is a multi-purpose tweak that brings a variety of information to the lockscreen and notification center. It gives an at a glance view of Facebook, RSS, Mail and much more to the user right on the lockscreen and NC.
It adds powerful features to both parts of these parts of iOS giving instant access to useful information to the users so they don't have to unlock their device or launch the app just to check if there's anything important there.
Not only can users view their emails right from IntelliScreenX 7's interface but they can also read, delete or open them in mail application right from it. For Facebook it allows users to view comments, like a post and post a new status. Twitter section also enables users to view their timeline and mentions as well as reply to a tweet or post a new one giving them a convenient way to stay updated with their favorite social networks.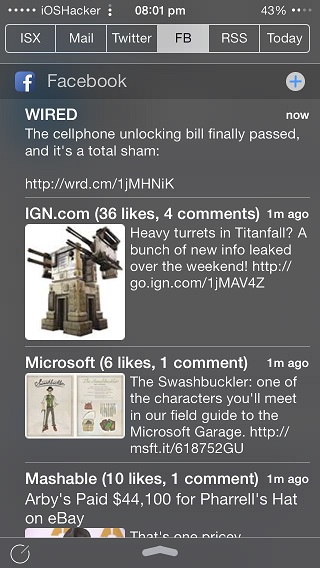 It even includes a built-in RSS that can be used to stay updated with a number of popular RSS feeds coming in directly from Google News.
The tweak has a quick reply and compose feature, which can be used by users to create or reply to messages without launching the messages application.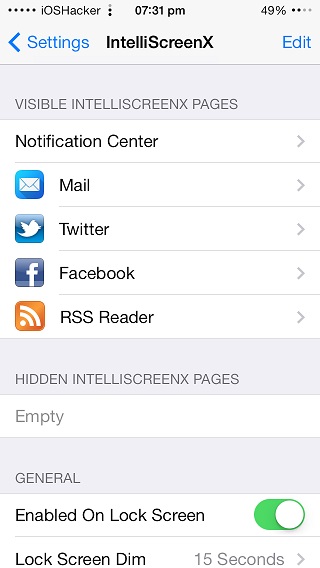 Currently the beta version of the tweak has been released that can be downloaded for free. But later you will have to purchase a license in order to use IntelliScreenX 7 on your iPhone,  iPad or iPod touch.
IntelliScreenX 7 is free for IntelliScreenX 6 users and will cost $4.99 to those who had purchased IntelliScreenX. For those who have bought IntelliScreen previously the update would cost $7.99.
If you haven't purchased any version of this tweak before then you will have to pay $9.99 for the license.