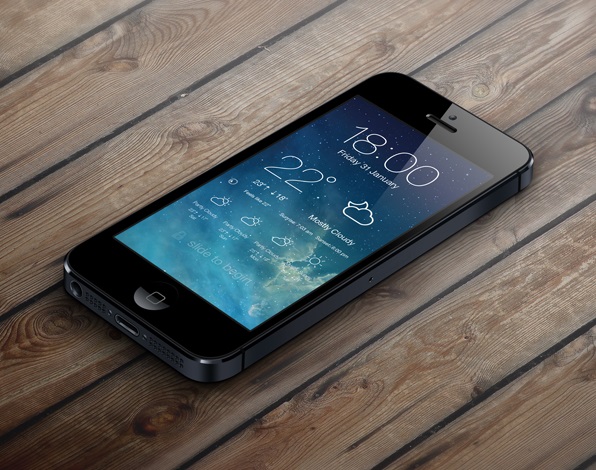 iOS users are always complaining about lack of a better way to check current weather as normally they have to launch the stock or any third party weather app for the purpose. A lot of Cydia tweaks try to make the process simpler such as the StatusWeather tweak we told you about yesterday.
Now a new tweak called iOS 7 LockScreen Weather has been released in Cydia that makes it super convenient for iOS users to stay updated with weather reports of their current location.
This tweak takes a different approach than other weather related hacks and puts a full weather report on the lockscreen. The weather report is complete with live current temperature, report about weather it is cloudy or sunny etc as well as a forecast for next four days.
The weather report this tweak places on the lockscreen looks gorgeous and blends in well with other portions of iOS 7's lockscreen. The best thing about it is that you can apply any wallpaper of your choice without any issues.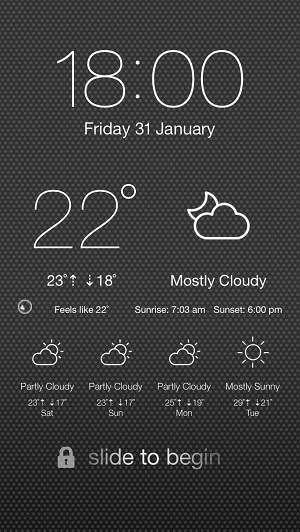 There are no complicated settings to configure as all you have to do is enter the location ID of the place you want to get the weather for on your lockscreen. As its developer has mentioned on Reddit the future version of this tweak will include geolocation capability that will allow it to show the weather report for current location without requiring any action from the user.
iOS 7 LockScreen Weather is essentially a theme that is based on Cydget tweak, which is a theme platform for the lockscreen by Saurik. It currently only supports iPhones with 4-inch displays including iPhone 5s, iPhone 5c and iPhone 5. It also supports iPod touch 5th generation. You can buy it from Cydia right now where it is available under ZodTTD & MacCiti repo.