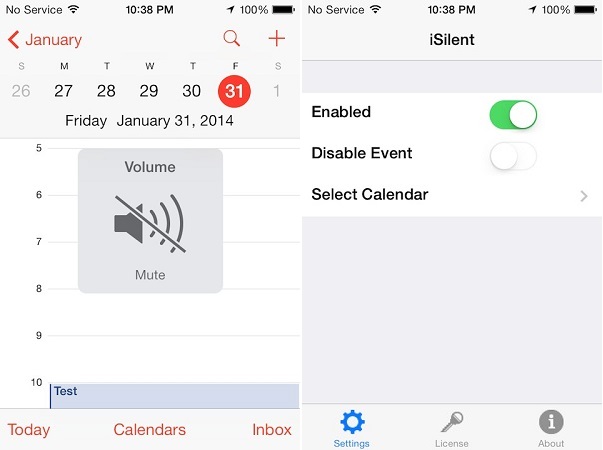 We all know how embarrassing it is when our phone starts ringing while we are in the middle of a meeting, presentation or while we are attending a lecture. Of course it is super easy to put your smartphone into silent but that's something our brain really likes to forget.
A new Cydia tweak called iSilent for iOS 7 has been released to fix that problem. It intelligently puts your iPhone on silent mode whenever you are in a meeting. It reads your calendar app to see if you have a meeting at a certain time. Then it puts the device in mute mode.
When the meeting is over the tweak automatically reverses the process putting iPhone back in ring mode. The best thing about this tweak is that you don't have to do anything to disable silent mode as it takes care of that itself. Users get the option to either select all or individual calendars, which makes the tweak even more convenient since you can select only your work calendar if you want to.
iSilent tweak fully supports iOS 7 and ARM64 devices. It also supports older versions of the operating system including iOS 4, 5 and 6. You can download a 7 day free trial of this tweak from Cydia right now. You will have to pay $2.99 for its license after that period.
Disclosure: iOSHacker may receive a commission if you purchase products through our affiliate links. For more visit our privacy policy page.