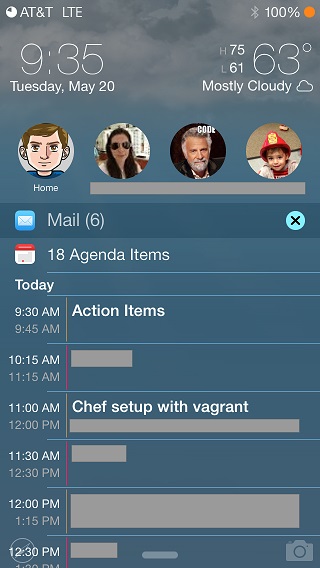 The stock lockscreen of iOS offers a pretty basic level of information and options to the users. You get notifications that show you a limited amount of information that you can swipe to unlock your device, and then launch the relevant app to access rest of the message. If you want to change this behavior of the lockscreen and want to access more information without even unlocking your device then LockInfo 8 tweak can help. The tweak brings widgets and previews to the lockscreen to display information in an efficient way.
LockInfo 8 integrates the widgets and notifications offering you at a glance and detailed information related to pending alerts. You can even view previews of messages such as emails on the lockscreen without the need of unlocking your device. Similarly you can view the full weather forecast by tapping on the weather widget and your day's agenda on the calendar widget. To quickly clear all the pending notifications you can simply pull down on the notification screen.
While LockInfo 8 adds convenience to the life of iPhone users by bringing useful data on the lockscreen it is not suitable for those who care about privacy and don't want anyone to view their calendar or read their emails.
You can download LockInfo 8 for free from Cydia as it is available with a 14 day trial. After that you will have to pay $4.99 for the license, which will be available through the Settings app. If you own the previous versions of the tweak then it will be a free upgrade. Please note that users who purchased the tweak before July 2014 will need to pay $1.99 upgrade fee.