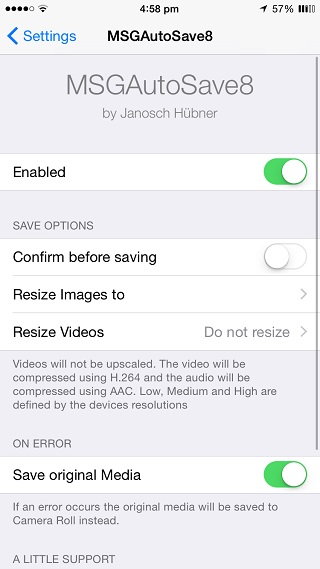 If you receive a lot of images and videos through the Messages app then you would know how annoying it is to manually save individual attachments to your device. You have to tap on each image and hit the save image button from the menu. MSGAutoSave 8 (iOS 8) Cydia tweak solves this problem by automatically saving iMessage attachments to the Photos library, which includes images and videos. The best feature of this tweak is that you don't even have to open the Messages app or read the messages for the attachments to be saved in your library.
There are a number of useful settings that you can configure from its preference page. You can make the tweak ask for your confirmation before saving any image or video, reduce image size to a certain percentage that helps in saving storage and also reduce video quality. You can select from low, medium and high quality saving options.
The MSGAutoSave8 tweak brings WhatsApp like functionality to iOS's stock Messages app. WhatsApp also offers similar option, which you can turn off it you don't want your library to be cluttered with random images and memes.
MSGAutoSave8 (iOS 8) is compatible with other iMessage tweaks including TypeStatus and BiteSMS.
You can download this tweak from Cydia for free. It is compatible with iOS 8 or above. An iOS 7 version of MSGAutoSave is also available.