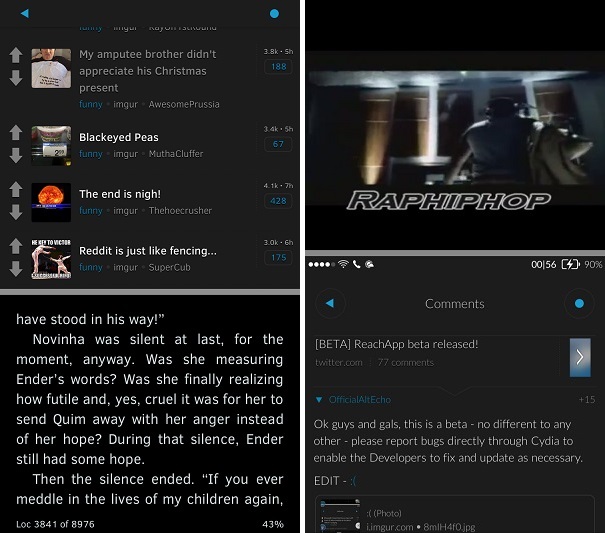 We have always wanted to have true split-screen multitasking on iOS. While the current way of multitasking, which involves jumping from one app to another is fine it is certainly not great. This is especially true when you want to be able to use two apps at the same time. A new Cydia tweak called ReachApp tries to make the multitasking experience of iOS device better by enabling users to run and interact with two apps simultaneously in a split-screen interface. ReachApp takes inspiration from iPhone 6 and 6 Plus's Reachability mode, and adds a fully usable app where there's supposed to be a blank space.
ReachApp not only splits the screen in two sections and run two apps in them but it also allows users to resize them. So if you want to make one app bigger you can by simply sliding on the grey line. ReachApp supports both landscape and portrait modes. In landscape mode the apps are shown in left and right sides of the screen. This mode is more useful on iPads, which have more real estate to offer.
When it comes to usefulness, the ReachApp tweak has huge potential. You can use the split-screen multitasking to view or copy blocks of text from one app while typing on the other, view your Twitter timeline while watching a movie, read a book while talking to someone over iMessage and much more.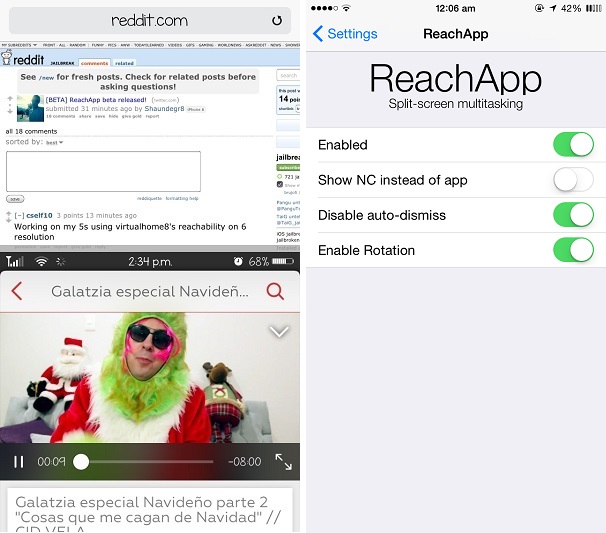 From Settings you can configure ReachApp to show Notification Center instead of an app in the Reachability area. You can also enable or disable rotation mode and auto-dismiss feature.
Using ReachApp is very simple, as all you have to do is launch the first app and then return to the homescreen. Then you have to launch the second app, after which you have to double tap on the Touch ID button. This will invoke the ReachApp tweak's split-screen mode with your last and second last app running side by side simultaneously.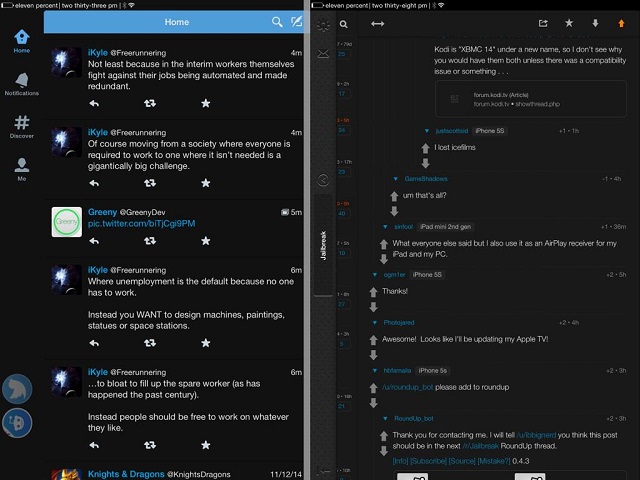 You can watch ReachApp tweak in action in the video below.
The tweak is still in beta. If you want to try it then add 'elijahandandrew.com/repo' to your sources. You will need iOS 8 and a Touch ID enabled device to use it.
[Source/Screenshots:
Reddit
]
Disclosure: iOSHacker may receive a commission if you purchase products through our affiliate links. For more visit our privacy policy page.