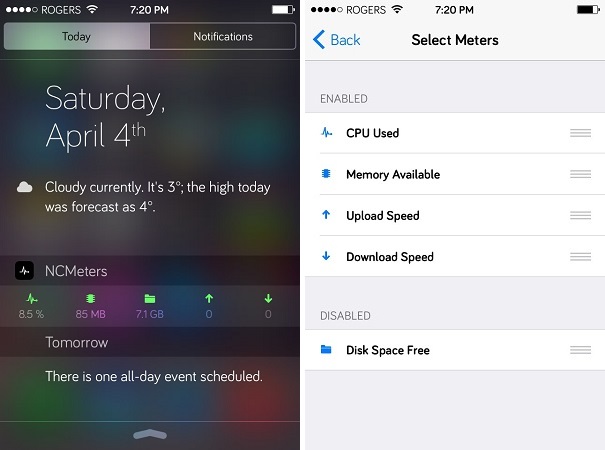 Notification Center provides an at a glance view of useful information to the user that includes pending notifications, weather, date and more. However if you need to add some more information to this section of iOS you will have to add third-party widgets. One such widget is the newly released NCMeters, which puts the usage information about the iPhone in the Notification Center. There are five icons that can be added to the NCMeters including CPU usage, RAM usage, current upload and download speed and the free disk space available for usage.
NCMeters comes with several customizability options such as ability for users to change the color of icons and of the accompanying text. You can also add or remove certain icons by going to tweak's settings page and dragging the icons to 'Disabled' section. Alternatively, you can reorder the way they appear within the widget. A good thing about this performance widget is that it is only activated when you pull down the Notification Center. This prevents it from unnecessarily using up CPU power or battery of the device.
NCMeters tweak is available in Cydia for free. Please note that you will need WeeLoader tweak installed for this to work.
If you want to add a similar widget to the Control Center then check out CCMeters.