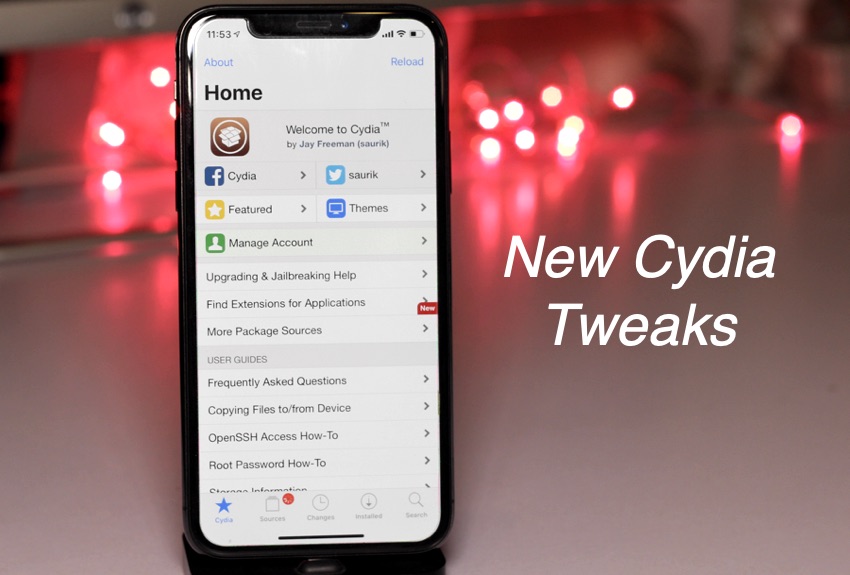 checkra1n iOS 13 jailbreak has been out for over a week now and tweak developers are busy with updating their tweaks to support it. In addition to older tweaks adding iOS 13 compatibility, we're also seeing brand new iOS 13 tweaks becoming available for download in Cydia.
In order to help you with finding these awesome new Cydia tweaks for iOS 13 we have compiled this list of newly released hacks that you should try right now. The list includes 8 new releases including Continuity, Manila, Noctis Neo, TweakRestrictor, ScreenSafeXIII, LetMeKnow, FiveDock13 and HideLabels13. Keep reading to learn what these hacks do and how you can download them on your jailbroken devices. Great news is all of these hacks are fully compatible with iOS 13 jailbreak.
Continuity tweak: Scrollable wide wallpapers for home screen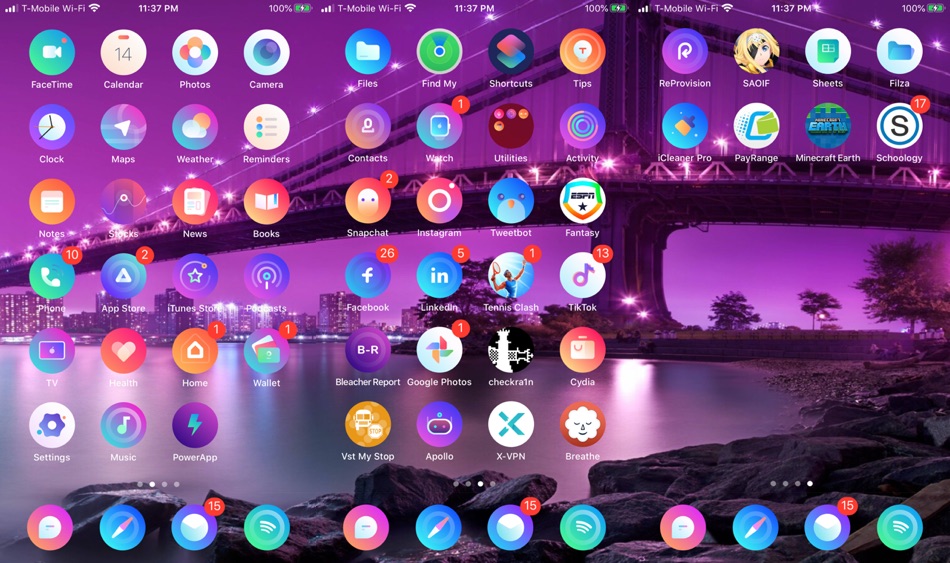 Have you ever wanted to have scrollable wide wallpapers on your iPhone's home screen that are found on many Android devices? Then you're going to love the new Continuity tweak. This wallpaper tweak for jailbroken devices enables users to have a scrollable wallpaper on their device's home screen.
The wide wallpaper moves as you scroll through various pages of your iPhone's home screen giving a very cool effect. Since the wallpaper is scrollable you need to have a high resolution wide wallpaper image to get the best advantage of this tweak. You can download Continuity tweak from Cydia or Sileo where it is available for $1.00 on Packix. The tweak works with iOS 13 or older.
Manila tweak: Quickly Open Folder Apps From 3D Touch Menu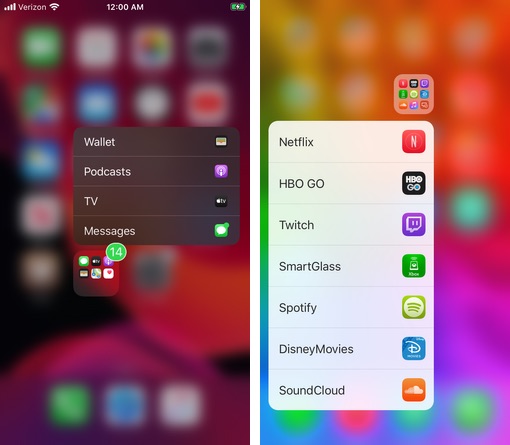 The Manila jailbreak tweak makes home screen icon menus more useful by enabling users to quickly launch apps stored inside a folder from them. Normally when you long press on a folder you only get access to Rename and Edit Home Screen options. With Manila tweak installed you will get a list of applications that are stored inside a folder. You can quickly open these apps by simply moving your finger to it. Manila eliminates the need for opening the folder first and then tapping on the icon, making the process much quicker.
You can download the Manila tweak on any jailbroken device running iOS 13 or earlier. It is available as a free download through the Packix repo.
Noctis Neo tweak: A better dark mode for iOS 13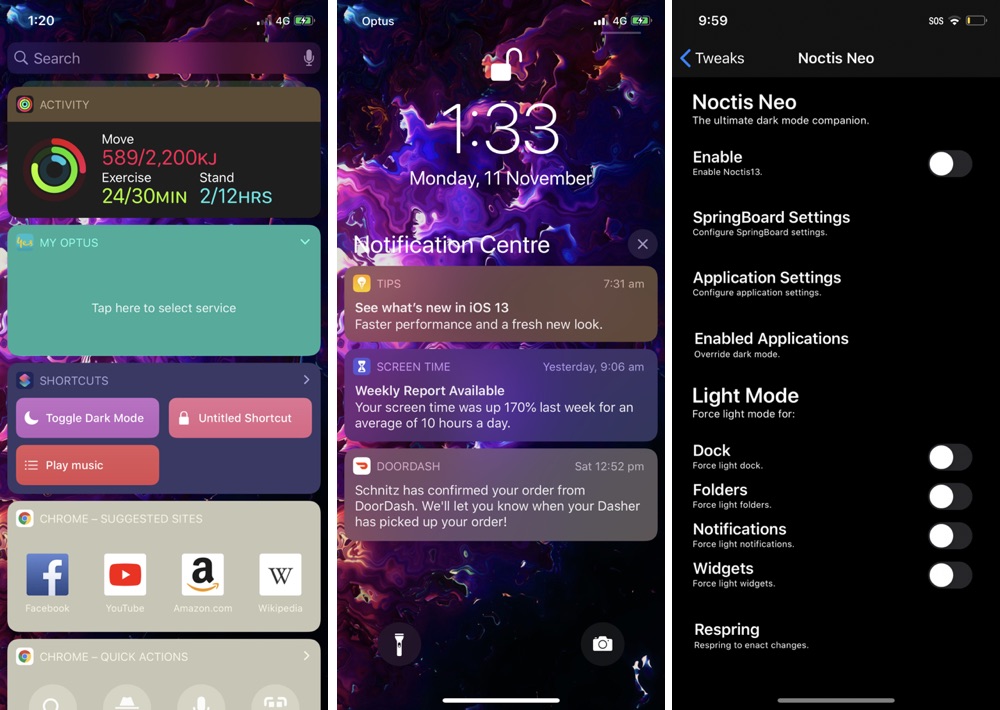 Noctis Neo tweak builds upon the dark mode feature of iOS 13 and attempts to make it better by bringing it to parts of iOS that don't have it yet. This tweak also makes the dark mode more customizable, enabling users to have customizable coloring for widgets, notifications and 3D Touch menus. Users can also change the density of black color on the dark mode changing it from normal to black. The True Dark theme looks especially good on OLED iPhones.
Other features of the Noctis Neo tweak include selective light mode in certain parts of the operating system while dark mode is on, blur mode for 3D Touch menus, iOS 10 style widget headers and more. You can download Noctis Neo tweak from Cydia or Sileo's Chariz repo, where it is available for $1.49. It requires iOS 13 or later to work.
TweakRestrictor tweak: Disable Tweaks Within Certain Apps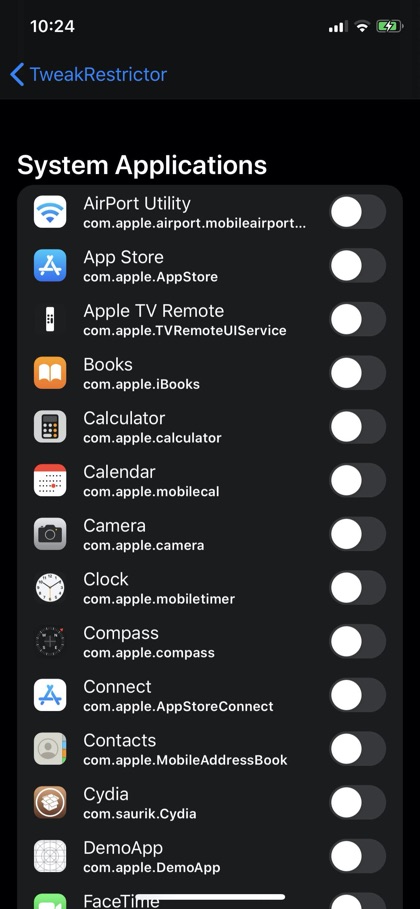 TweakRestrictor tweak is a must have for every jailbreak user. This useful tweak allows users to disable installed tweaks while certain apps are running. This helps in bypassing restrictions that some apps place on jailbroken devices. So for example you can use TweakRestrictor to disable installed tweaks in banking apps, Paypal, Snapchat etc and use them without any problems. Activating this tweak for apps is simple, you just need to enable a toggle for app you want to restrict tweaks in. You can download the TweakRestrictor tweak from Cydia where it is available for free. It works with all devices jailbroken on iOS 13.
ScreenSafeXIII tweak: Add Screensaver feature to iOS 13 device
ScreenSafeXIII tweak is a screensaver tweak that brings the missing screensaver feature to iOS 13. With this tweak you can pick a video and adjust loop settings to have it as your device's screensaver. ScreenSafeXIII is OLED friendly so it will not cause OLED burn-in issues on your iPhone X or later. Other features of ScreenSafeXIII tweak include ability to only enable screensaver feature while the device is unlocked, automatically enabling low power mode while the device is in screensaver mode and more.
You can download the ScreenSafeXIII tweak from Cydia or Sileo where it is available for $1, while those who already own ScreenSafe can download this package for free. This tweak works with iOS 13 or lower and is available through Packix.
LetMeKnow tweak: Makes your iPhone vibrate when call connects or disconnects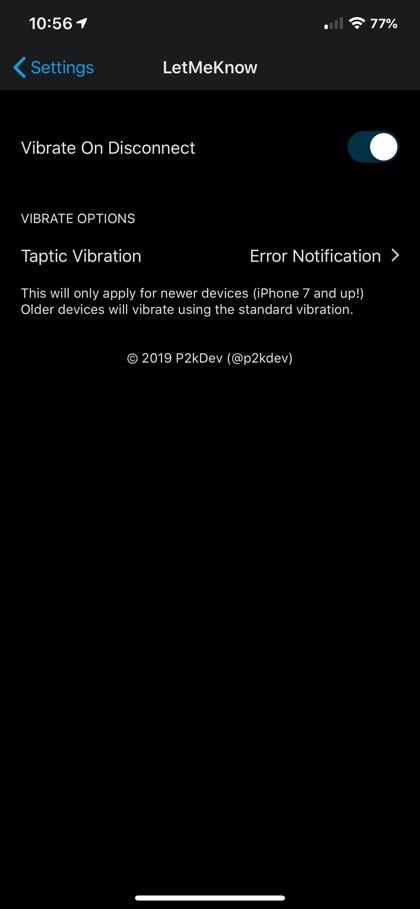 Don't you hate it when you are calling someone and are supposed to hold the phone next to your ear waiting for the other person to pick up the call? Or when a call has dropped and you keep talking unknowingly. The LetMeKnow tweak solves these problems by vibrating your iPhone when it connects or disconnects from a call. You can download LetMeKnow from Cydia or Sileo, where it is available for free through the Packix repo. It works with iOS 13 or earlier.
FiveDock13: Add five icons to dock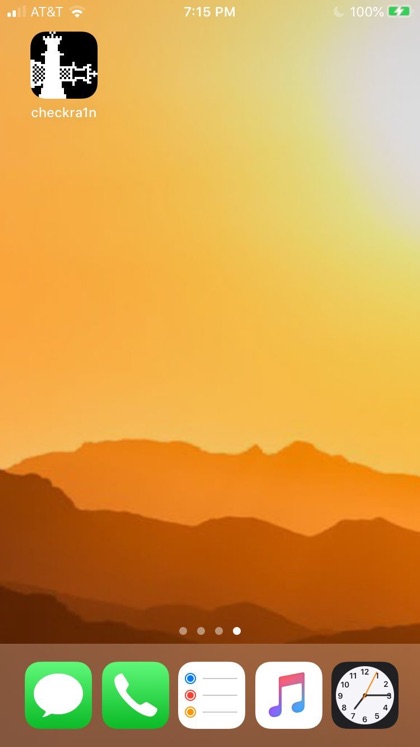 The FiveDock13 icon does exactly what its name suggests, it allows users to add an additional app icon to the iPhone's dock. This means with this tweak installed you can have 5 icons inside the dock as opposed to 4 icons. FiveDock13 is a free tweak and works with iOS 13 or later.
HideLabels13: Hide icon labels on iOS 13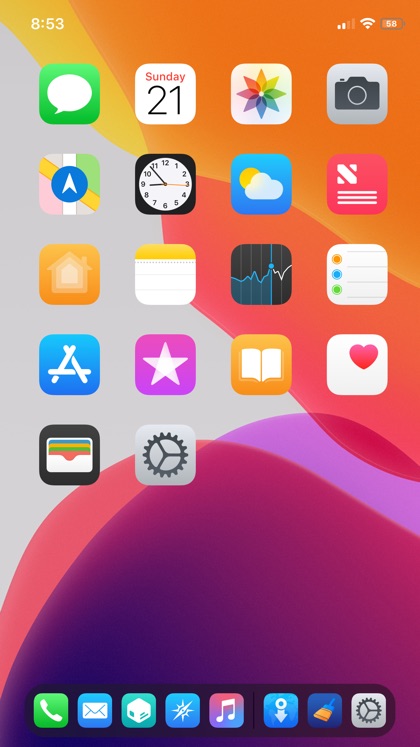 Just like the FiveDock13 tweak, HideLabels13 also improves the look and feel of your iPhone's home screen by letting you hide the icon labels. As a result this iOS 13 tweak gives your device's home screen a minimalistic look. HideLabels13 works with iOS 13 and is available for free through Packix repo.