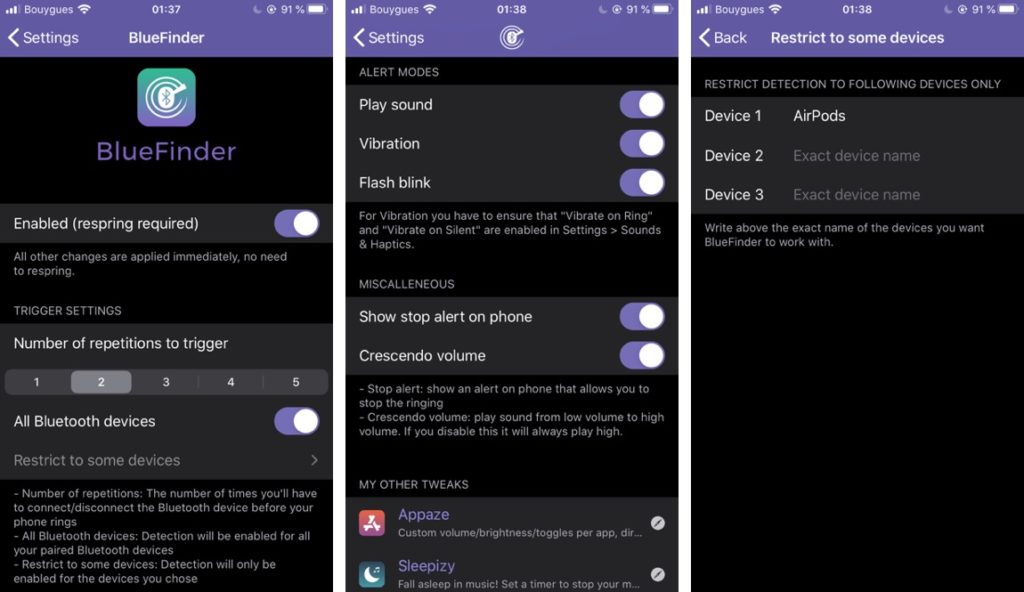 Are you always losing your iPhone and end up wasting precious time looking for it? Then the newly released BlueFinder tweak is designed just for you. This clever new Bluetooth tweak makes it super easy to locate a missing iPhone using any Bluetooth device that has previously been connected to the iPhone.
How BlueFinder tweak works is pretty simple, it makes your iPhone flash its LED flashlight, vibrate and make a sound every time you turn on any of your Bluetooth accessories two times. So for example in the case of AirPods you can open and then close the lid and then open it one more time. As soon as your AirPods connect to your iPhone for the second time, the iPhone will start ringing and blink its flashlight. A great thing about this tweak is that iPhone will ring even when it is in Silent mode or Do Not Disturb settings are enabled.
BlueFinder works with all sorts of Bluetooth accessories such as Bluetooth speakers and other Bluetooth headphones. You also have the option to restrict certain devices to work with BlueFinder in order to avoid false triggers. You also have the option to increase the number of repetitions up to 5.
For BlueFinder tweak to be effective it requires the following conditions to be fulfilled:
Bluetooth settings need to be enabled on the iPhone.
Bluetooth accessory should have already been set up with the iPhone.
Bluetooth accessory should be in Bluetooth range of your iPhone.
Don't want your iPhone to blink its flashlight, vibrate and ring at the same time? You can turn off any of these alert options from tweak's settings page. 
You can download the BlueFinder tweak on any iPhone running iOS 11 all the way up to iOS 13.3. It costs $1.50 and is available through the Packix repo.