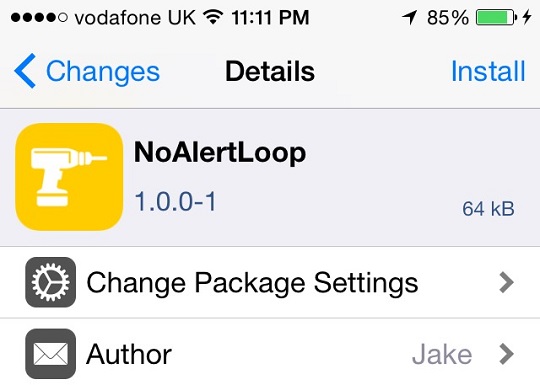 Internet is full of dodgy websites that are deliver malicious ads. Sadly we all end up on such websites when browsing the internet, looking for that funny cat video we were enticed by on Facebook. These websites have pop up ads that keep popping up, making it next to impossible for you to close the tab or go to the previous page. Luckily for us, the new NoAlertLoop tweak from Cydia solves this problem by blocking websites that send you multiple popup alerts in a short span of time.
The tweak analysis websites that give out popup alerts to see if those alerts are bombarded on your screen one after the other. If it finds such a behavior it will automatically prevent it from sending further popups. In upcoming updates the tweak will ask the user if he or she wants to disable further popups or not. If you don't mind the popup behavior of a particular website you will be able to opt to continue receiving them. A Settings panel will also be added later.
In addition to supporting the Safari browser the tweak also works for third-party apps that let you access the internet, such as Alien Blue Reddit client etc.
NoAlertLoop tweak is available in Cydia for free. You can download it from the BigBoss repo.
Disclosure: iOSHacker may receive a commission if you purchase products through our affiliate links. For more visit our privacy policy page.