Just like any other day new tweaks were released in Cydia that allow users to change different aspects of their iOS device for the better. Today's roundup includes NoStatusBar, HD Enabler for Youtube, Unlockr, SwipeSelection Pro and ccinfo for Control Center.
NoStatusBar
Don't like the status bar taking away real estate in the App Store app? Then install NoStatusBar tweak from Cydia. It simply removes the status bar from appearing on App Store applications increasing space for the app. The tweak also has an option to disable the status bar on the lockscreen. NoStatusBar is a free download from Cydia.
HD Enabler for Youtube
By default Youtube app for iOS does not allow users to play videos in 720p format while they are on the cellular connection. There's no limit on watching HD videos on a WiFi connection though. This tweak changes that by allowing users to watch videos in 720p HD as well as other playback qualities over cellular connection. HD Enabler for Youtube requires iOS 7 and works for Google's Youtube app i.e available from the App Store. It costs $0.99.
Unlockr
Unlockr is a lockscreen tweak that brings pattern based unlocking to jailbroken iOS devices. It divides the screen into four sections and allows users to create patterns for tapping these sections in order to unlock their iPhone, iPad or iPod touch. Unlockr works simply like there unlock tweaks and can be activated by tapping on the lock or home button.
Before you download it bear in mind that it is not compatible with Touch ID and developer does not take responsibility of any sort of security breach caused by this tweak. Unlockr is available for $1.99.
SwipeSelection Pro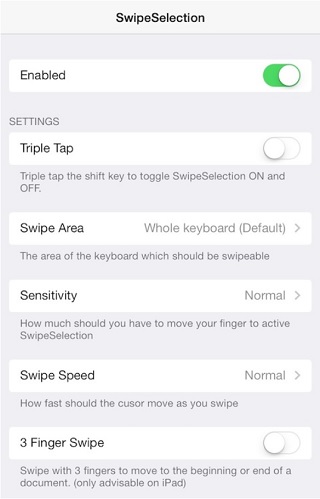 SwipeSelection Pro is an upgraded version of the popular SwipeSelection tweak with added features. It provides users with a number of options that allow them to customise the tweak according to their writing style. With the pro version of the tweak users can adjust the swipe sensitivity, cursor speed and specify which section of the keyboard should be swipeable. It is available for $1.99.
ccpinfo for Control Center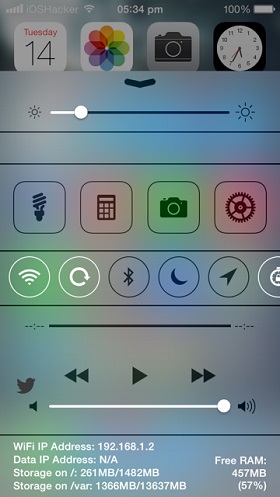 ccpinfo for Control Center is an add-on that brings a new section to iOS 7's Control Center. This new section gives users an at a glance view of useful information related to his or her device including WiFi IP address, Free RAM, free storage and more. There are no settings to configure and it is available in Cydia for free. You can use the CCLoader tweak to change the position of ccpinfo as well.
Disclosure: iOSHacker may receive a commission if you purchase products through our affiliate links. For more visit our privacy policy page.