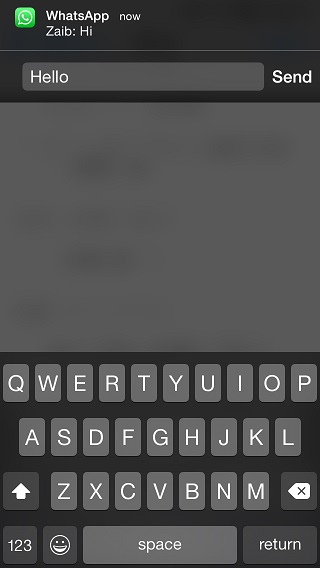 Quick Reply is one of the most loved features that were added in iOS 8. This super useful feature allows users to quickly reply to a text message right from the notification banner. All you have to do is slide down, type in your reply and hit the send button without even opening the Messages app. Unfortunately this feature is only limited to the Messages application, which means if you use any third-party app such as WhatsApp, you won't be able to take advantage of this iOS 8 functionality.
A new Cydia tweak called Nuntius, which is still in beta adds this much needed feature to WhatsApp, enabling users to conveniently reply to WhatsApp messages using the quick reply function. Similar to how Quick Reply works for Messages app, you only have to tap on the banner and slide down to reveal the text field. Then just type in the message and hit the 'Send' button without even going into the WhatsApp app. After sending the message you can continue using the app you were using before the notification arrived without distraction.
Since Nintius is still in beta it is not yet available on any of Cydia's default repos. Add http://sharedroutine.com/repo to your sources to get it for free.