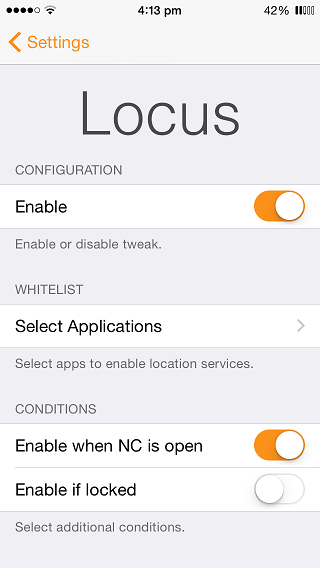 Location Services are an important aspect of the iOS experience, and the apps that use your location data heavily rely on them to deliver some of their most important features. You can enable or disable location services from Settings app or by using the Control Center flipswitch if you are using tweaks like CCSettings. There are many reasons why you would want to turn off your location services even though you need this feature in many apps. The most important being disabling location services can have a noticeable affect on your battery life as it reduces consumption. Privacy is another issue as when your location services are on any app can get access to the data, unless you have blacklisted that particular app from Settings.
As a result people who keep this iOS setting off most of the time and only enable it when they need it in certain apps are usually trapped in an endless cycle of enabling and disabling this feature. A new Cydia tweak called Locus makes handling location services on iPhone, iPad and iPod touch a lot easier by automating the process.
With Locus the location services will only be turned on when you are using specific applications. Once you exit the application, this feature will automatically be turned off until next time you enter that app again. That's not it as this tweak also enables the location data transfer when you pull out the notification center on your device.
Another nice feature of Locus tweak enables location services of iOS when the device is locked. This helps in locating the device if you lose it with services like Find My iPhone.
Overall Locus is a nice tweak and a must have that needs to installed on every iOS device out there. You can get it for free from the BigBoss repository.