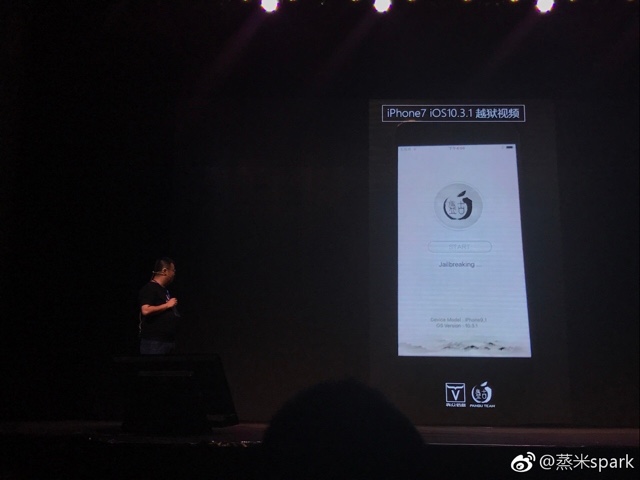 China based PanGu jailbreak team, which has been quiet for some time now has resurfaced with a very interesting demo. The team took the stage at a conference in China, where they demonstrated their iOS 10.3.1 jailbreak on iPhone 7. In the video Cydia can be seen running on iOS 10.3.1. What's even more exciting is that PanGu is rumored to be working on a public jailbreak and might even release it for everyone as soon as next week.
According to a Twitter user qwerty860320 the allegedly upcoming PanGu iOS 10.3.1 jailbreak will support all 64-bit devices including iPhone 7, iPhone 7 Plus, 6s, 6s Plus, 6, 6 Plus, 5s and iPhone SE. iPad Pro, iPad Air 2, iPad Air, iPad mini 4, iPad mini 3 and iPad mini 2 will also be supported. In addition to these devices owners of iPod touch 6th generation will also be able to take advantage of the new PanGu tool.
It is unclear at this point if the jailbreak is fully untethered or semi-untethered like the one released by Luca Todesco. Luca's jailbreak is semi-untethered as it requires users to re-jailbreak their device by connecting to a computer every 7 days. Users also need to launch mach_portal after every reboot.
https://twitter.com/qwerty860320/status/856799784601923584
It is certainly exciting to know that one of the trusted jailbreak teams are working on the iOS 10.3.1 jailbreak and intend to release it soon. However we would advise anyone interested in jailbreaking their iOS devices to wait for the official confirmation before using any tool on their device. There are plenty of fake jailbreak tools out there that contain viruses, can steal your private data, and even damage your device beyond repair.
We will continue to follow this story and post when any new development occurs.