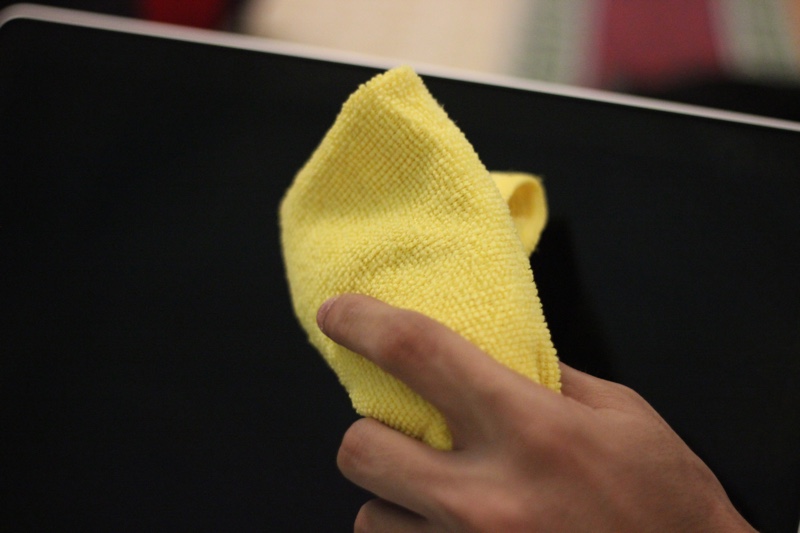 MacBook screens get dirty and if you are not cleaning them regularly the dust and other particles can cause permanent damage on them. Not to mention it gets very annoying to use a MacBook or any other device for that matter with a dirty screen. If you are a MacBook owner, then you should be cleaning its screen regularly to avoid getting permanent marks on it. In this post we will share important tips that will help you clean your notebook's display the right way.
The first thing you need to clean your MacBook's screen is a clean cloth. However make sure the cloth you are using is soft and lint-free. A microfiber cloth is ideal for cleaning the screen. You will also need LCD screen cleaning liquid, which will make the cleaning process easier. Once you have these two things make sure you shut down your computer and unplug it from the power source.
Clean it up
Now take the microfiber cloth and spray the cleaning liquid on it. Make sure you spray the liquid on the cloth and not on the screen. Avoid getting moisture into any openings. Once you have the liquid on cloth gently wipe it on the screen. Wipe the screen in circles to make sure all the dirty spots are removed. After cleaning the screen with the liquid take the dry side of the cloth and wipe the screen with it so that any liquid particles are removed from it.
If you have a Touch Bar and Touch ID equipped MacBook Pro, then it is recommended that you also clean it the same way as you cleaned the display in order to avoid getting scratches on its surface.
Cleaning the keyboard
Once the screen is clean you should also use the microfiber cloth to clean the keyboard. Use the cleaning liquid or water to wet the cloth and then wipe it on the keyboard and the surrounding area. Cleaning the keyboard of the MacBook is essential as any hand oils left on the keyboard will leave marks on the screen when the lid is closed.
Avoid these
Apple recommends that you only use a soft lint free cloth to clean the display and other parts of notebook. You should absolutely avoid using towels, paper towels, abrasive clothes and cloths with rough surface that can cause damage to the device.
Disclosure: iOSHacker may receive a commission if you purchase products through our affiliate links. For more visit our privacy policy page.