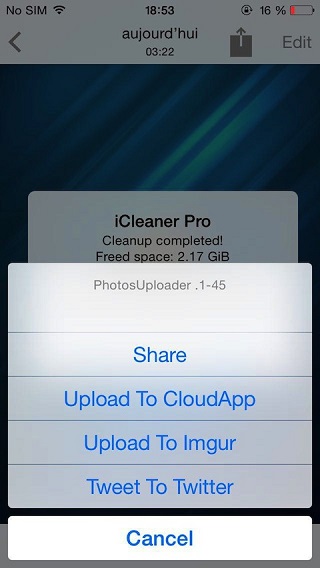 If you have been looking for a tweak that would make it easier for you to share photos from your iPhone or iPad's Photos app then try the new Photo Uploader tweak. It makes it possible for you to upload photos to different online services and social networking apps in a few taps, right from the stock Photos application. Currently Photo Uploader supports Imgur, Cloudapp and popular social apps like Twitter, Facebook, WhatsApp and more.
The best thing about this hack is that it will not only upload the image to your favorite web service but will also copy its link to the clipboard so you can instantly share it with your friends. As mentioned earlier it supports Imgur and CloudApp. For Imgur the tweak uploads the photo on the website, however not on your personal account and you can still get the link to share it. On the other hand you can sign in to your own CloudApp ID from preferences and upload images to that account.
Photo Uploader tweak adds a share button on the image preview page that you can tap to access the sharing menu. The 'Tweet To Twitter' button lets you share the photo directly to your Twitter account without requiring you to enter accompanying text. Sharing options for Facebook, WhatsApp, Dropbox, EverNote and others are also included.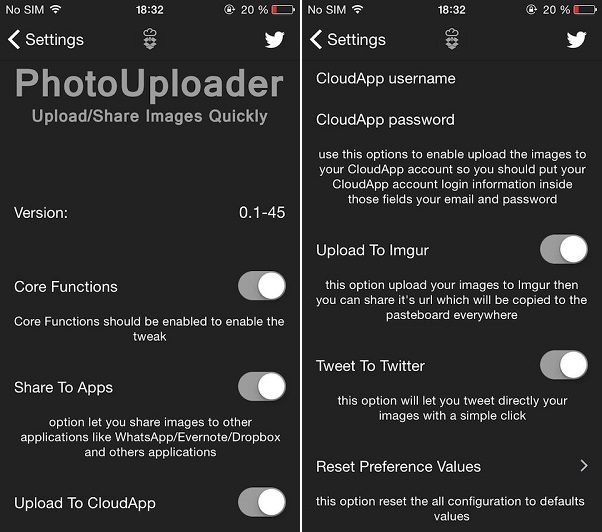 You can download Photo Uploader tweak from Cydia for $0.99. It works on all devices running iOS 8 as well as iOS 7.