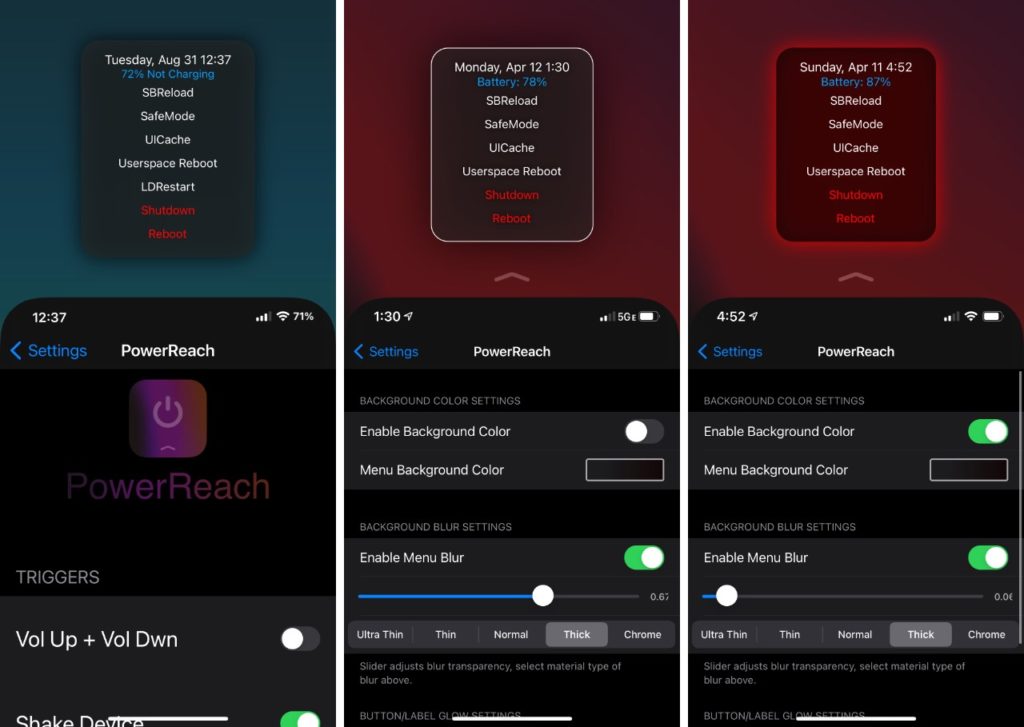 PowerReach tweak lets you add a full-fledge power menu to the Reachability screen with power options that are not available by default.
Apple may have failed to take advantage of the empty space that is left on the upper side of the screen as you invoke Reachability feature. But that has never stopped jailbreak tweak developers to take advantage of this empty area.
Some other cool Reachability tweaks that we have covered in the past include Ability, Camerability, Aspectus, Alternatum and more. Joining all previous Reachability tweaks today is PowerReach, which adds a useful power menu to Reachability.
PowerReach adds a new power menu to the upper section of the Reachability screen, which can be accessed by performing the Reachability gesture (swipe down on the home bar). The new power menu gives users access to useful power related features like the ability to Shutdown and Reboot the device.
But that is not it, as you also get a bunch of other useful information and actions on the PowerReach menu that make this tweak more exciting than a normal power down tweak.
PowerReach also adds date, time and battery percentage on its power menu, which is convenient.
In addition to shutdown and reboot buttons PowerReach adds SpringBoard reload button, Safemode button, UIcache, Userspace Reboot and LDRestart buttons. All of these buttons serve useful purposes and perform actions that are not available by default.
The best thing about PowerReach tweak is that it is full of customization options. From its settings users can change the background color, background blur, glow effects, add borders and backlighting to PowerReach menu.
While PowerReach menu can be accessed right on the Reachability screen, users can also invoke it with other methods. You can choose to enable various methods such as simultaneously pressing volume up and volume down buttons.
You can also choose to enable shake device method, which will let you access PowerReach menu by shaking the device.
PowerReach is a useful jailbreak tweak and a must have for those who want to take iOS's power menu to the next level. You can download it from the Packix repo where it is available for $1.25. It works with both iOS 13 and iOS 14.
More tweaks:
Disclosure: iOSHacker may receive a commission if you purchase products through our affiliate links. For more visit our privacy policy page.