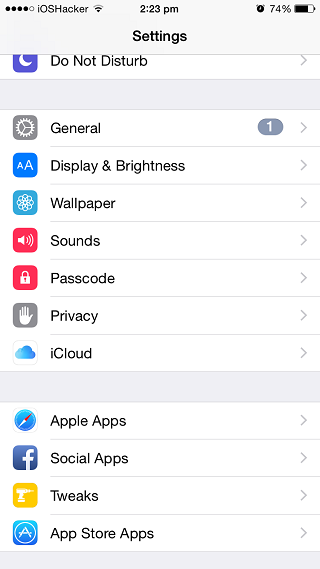 Settings app is one of the most crucial parts of iOS as you can use this single app to make changes to system settings, apps, mail and if you are jailbroken then tweaks as well. While the Settings app is fine as it is there are times when you want to rearrange the items found in it to make it convenient for you to get to things quickly, especially if you have installed tons of apps and tweaks. A tweak called PreferenceOrganizer 2 does exactly that by putting settings of similar types of apps and tweaks in seperate sections.
The tweak adds four sections to the Settings app that are by default called Apple Apps, Social Apps, Tweaks and App Store apps. You can change the names for these sections from tweak's own settings page. As the names of the sections suggest the tweak puts all the settings related to these apps in one section so you can access them at one place. This significantly removes the clutter from the main page that now only houses essential system settings.
The hack even allows you to disable certain sections if you don't want them. If you disable a section then settings that are classified to be in that section would normally appear on the main Settings page.
PreferenceOrganizer 2 tweak recently got updated to add support for iOS 8. It also runs on iOS 6 and iOS 7. You can get it for free by adding Karen Tsai's private repo (http://cydia.angelxwind.net/).