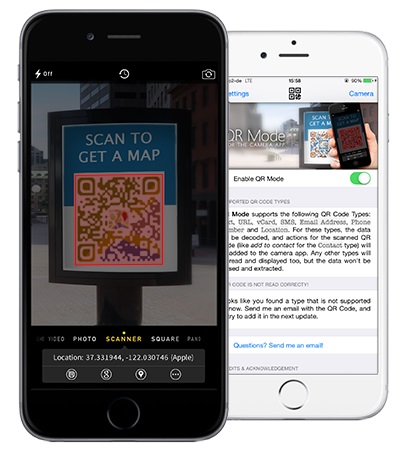 QR Codes are a popular way of sharing web links and other information with mobile users. Some services even allow you to check in at specific locations or download content by simply scanning a code. While QR codes are available in many third-party apps Apple has not integrated this feature into iOS, which means you cannot use the code to perform a function unless the code is related to a QR code supported app or you have installed a dedicated reader app.
A new Cydia tweak called QR Mode solves this problem by simply integrating the QR functionality into iOS's Camera application. This means users will be able to scan any code right from the stock app. The best thing about this tweak is that the implementation is seamless, as you can switch to the dedicated 'Scanner' by swiping on the screen. A new option is added to Camera app's scroll menu.
When you scan a readable QR Code the tweak displays the content it is pointing to right within the app in a separate interface. It is capable of recognizing and opening URLs, vCards, Phone numbers, email addresses, SMS, locations and more, and displays options related to that. For example, if the code you are scanning is pointing to a web address the tweak will open that website in its built-in web browser. Similarly if its a contact then the tweak will show you 'Add to contacts' and other related options.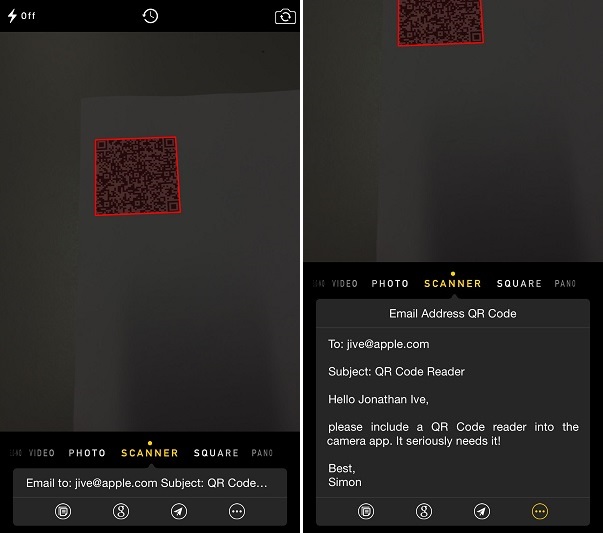 There's also a history function that displays all the codes you have previously scanned along with their contents. The tweak has been localized in 26 different languages.
QR Mode tweak is compatible with iPhone and iPod touch, and requires iOS 8 to work. You can download it from Cydia for $1.99.