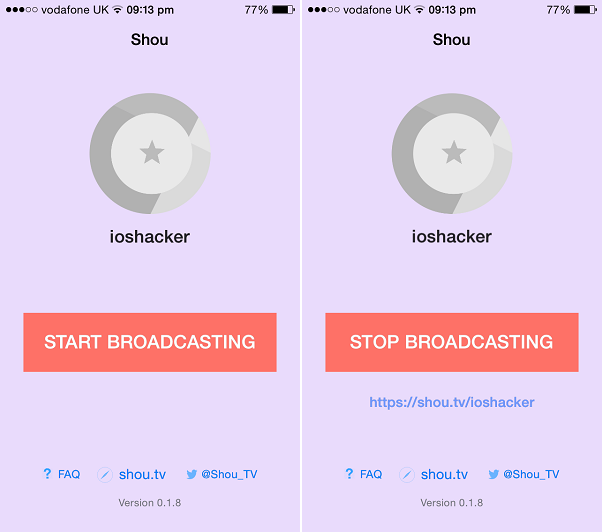 A newly released Cydia tweak named 'Shou' enables users to live stream the screen of their iOS device for free. And it is not only limited to live streaming as you can also record your screen. This is really helpful if you want to guide someone to accomplish a task or even if you want to showcase your games, videos or pictures. The tweak is now available in Cydia for download.
Sometimes pictures aren't enough to describe some experiences e.g. users can't get the idea of a game play by just looking at some screenshots. So we need to record videos to fill that gap and to deliver the true experience clearly. Realizing this need Apple has also built screen recording in iOS 8, however you require a Mac running OS X Yosemite to use that. Even if you have a Mac, both iOS 8 and OS X Yosemite will be released in fall this year. Until then Shou is here to help you out. Shou allows you to record high quality screen video up to 1080p at 60fps. Another good feature is that it also records the internal sound if there is any. Please note that the video recording feature is not working right now and may be added later as it is clearly mentioned in the tweak's Cydia description.
Perhaps the most amazing part of this tweak is that you can live stream the screen of your iOS device to web via https://shou.tv/username. Just share the url of your stream and anyone will be able to watch the screen of your iOS device. Viewers can also comment on your video. In our tests the live stream worked pretty nicely and was mostly lag free. Additionally, you can save all your videos on the website.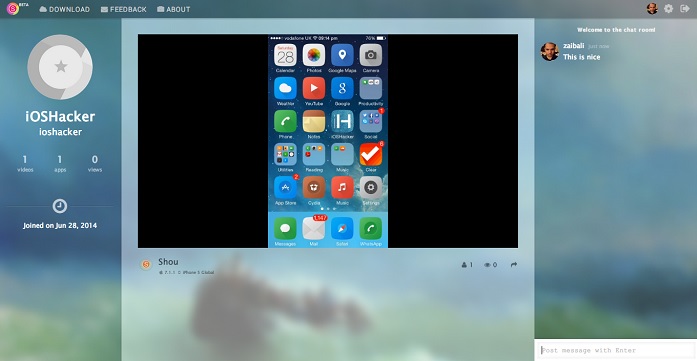 Now can you guess that how much you have to pay for all these awesome features? Absolutely nothing! It is completely free and does not feature any kind of ads. You can download Shou from Cydia right now. It is compatible with iPhone, iPod touch and iPad running iOS 7 or later.