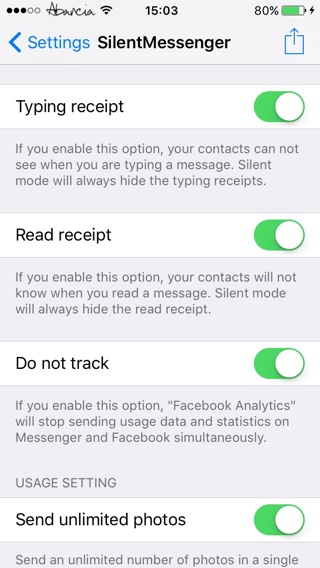 If you are a user of Facebook and the Facebook Messenger app on iPhone, then SilentMessenger tweak is something you should download. With this hack installed you will be able to control your privacy by disabling the app's ability to show your last active time, online status as well as read and typing receipts from others. You can disable all these by enabling the 'Silent mode' from the tweak's Settings page. In addition to enabling the silent mode, that disables all the mentioned features of the app you can also disable them individually.
Before you jump to install the tweak do note that when the silent mode is enabled, not only others can't see your current status but you will not be see their online and last active statuses either. When the silent mode is activated SilentMessenger tweak displays a blue banner on top of the app. That's not it as SilentMessenger packs some other tricks up its sleeves too, including the ability to enable the 'Do Not Track' functionality. When this is turned on Facebook Analytics will be disabled, so no usage data or stats will be sent to Facebook for both the Messenger and the Facebook app.
In addition to that the tweak also allows users to send unlimited photos at once, send videos of large durations and disable the annoying video autoplay feature of the Facebook app. Another cool feature that SilentMessenger tweak offers is the ability for users to easily switch between multiple accounts.
You can download the SilentMessenger tweak from Cydia for $1.50. It is compatible with iOS 9 as well as iOS 8 and iOS 7.