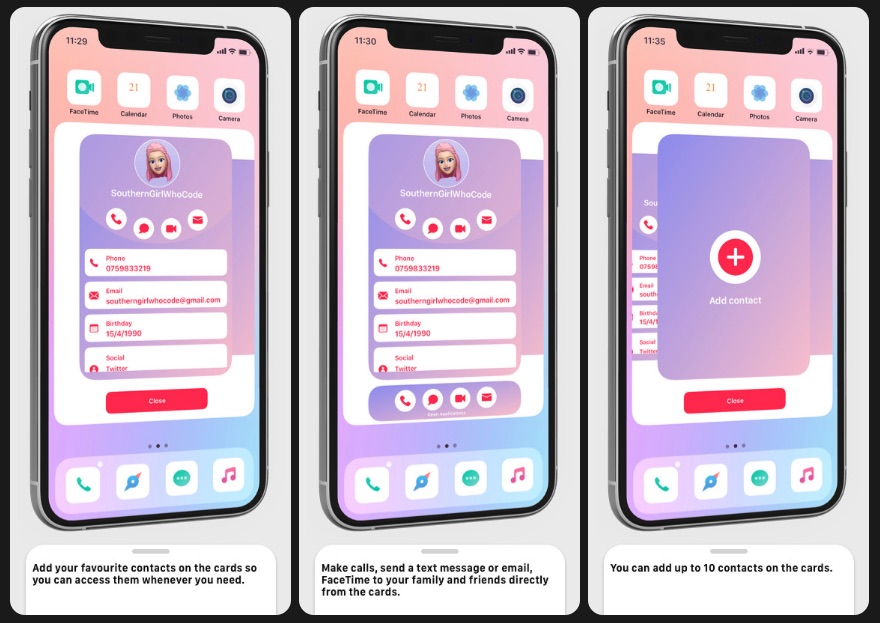 If you're looking for a quicker way to get to your favorite contacts, then look no further than the Sunset tweak. This tweak shows cards for favorite contacts on a floating interface, which is accessible through gestures.
Once you have chosen the contacts that you want to be shown on the Sunset widget you can access them anywhere by performing one of the 5 available gestures. As the cards appear you will be able to easily message, email, FaceTime or call them right from there without having to leave the app you are currently using.
You can also see useful information about your chosen contacts including their birthdays, social media, email, phone number and address.
You can add a contact's card to Sunset right from the cards section. You can add up to 10 different contacts on each card and swipe through them to look for the one you want to initiate the call with.
Sunset tweak gives you several customization options including the ability to change the color of cards or change the font styles.
In addition to this you can choose between 5 different gestures that are used to access the cards. This includes double tap on the status bar, press up or down volume button, double tap on the icon dock and shake device. The tweak also supports Activator, which gives you access to even more gestures.
You can download the Sunset tweak from Cydia's Twickd repository, where it is available for $1.79. It currently works with iOS 13 while the support for iOS 14 will be added in the future.