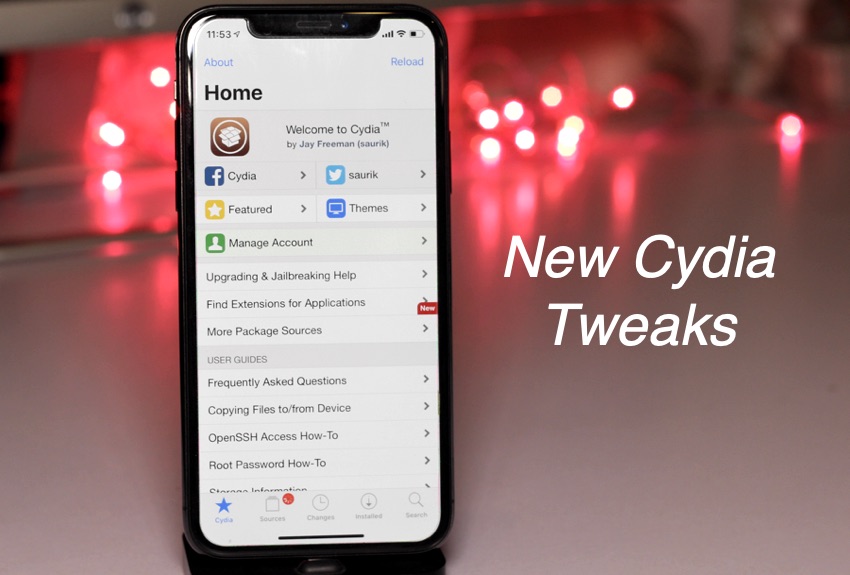 It is a great time to be a jailbreak user. Developers have just jailbroken iOS 12.2 while tweak developers continue to release awesome new tweaks. In today's roundup of newly released tweaks we have featured some great recent additions to the lineup of iOS 12 jailbreak as these tweaks not only make visual changes to our iPhone and iPad's interface but they also add new functionality to our devices.
So without any further ado, let's take a look at the newly released MathTeacher, Rainbow, PowerMenuX, ExactTimePhone and GlyphAlert tweaks. Below you can find detailed information on each of these hacks including their purpose, features, repository they are available in and of course pricing information.
MathTeacher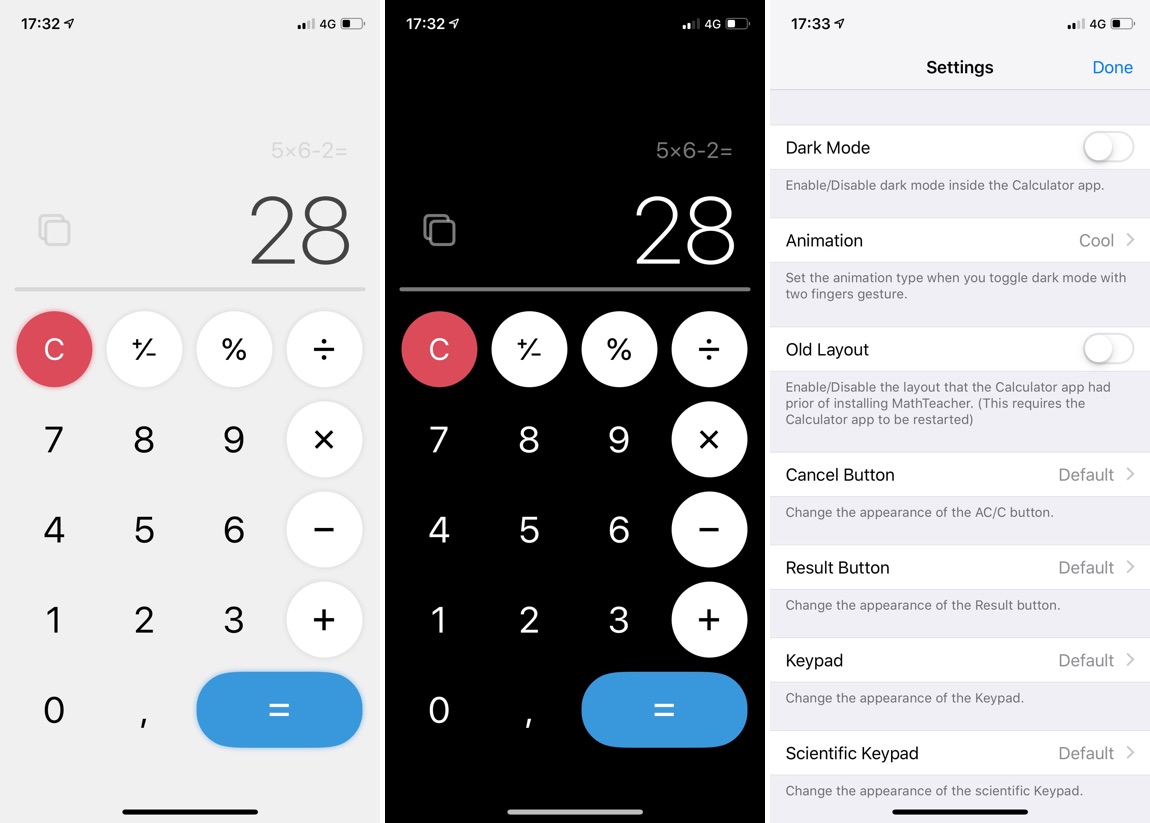 The MathTeacher tweak gives iPhone's stock Calculator app a much needed refresh. The tweak completely changes the look and feel of the Calculator app by adding a minimalistic design to it. With MathTeacher tweak installed Calculator tweak offers two different themes that includes a light theme and a dark theme, both of which are shown above. In addition to that you get a result copy button that you can easily press to copy the result to the clipboard, as opposed to the stock method that first requires you to long press on the result area and then tap on the copy option.
Like many third-party calculator apps out there, MathTeacher tweak also shows the last equation right above recent result. The tweak is also customizable and allows users to change its various features. You can download MathTeacher tweak from the BigBoss repo where it is available as a free download.
Rainbow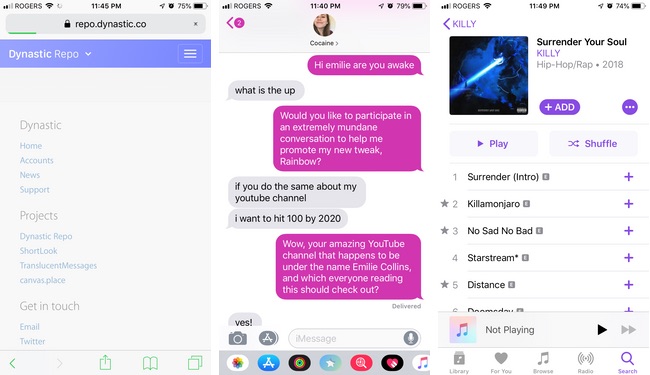 Rainbow is a must have tweak for users who like to customize their iOS devices to the full extent. Rainbow tweak enables users to customize their device's system tint color. With Rainbow you can change the color of various UI elements such as the iMessage bubbles, Music app's buttons, Safari's loading bar and buttons, Mail app's glyphs and much more. You can choose any tint as you like. You can download Rainbow tweak from the Dynastic repo where it is available for $0.99.
PowerMenuX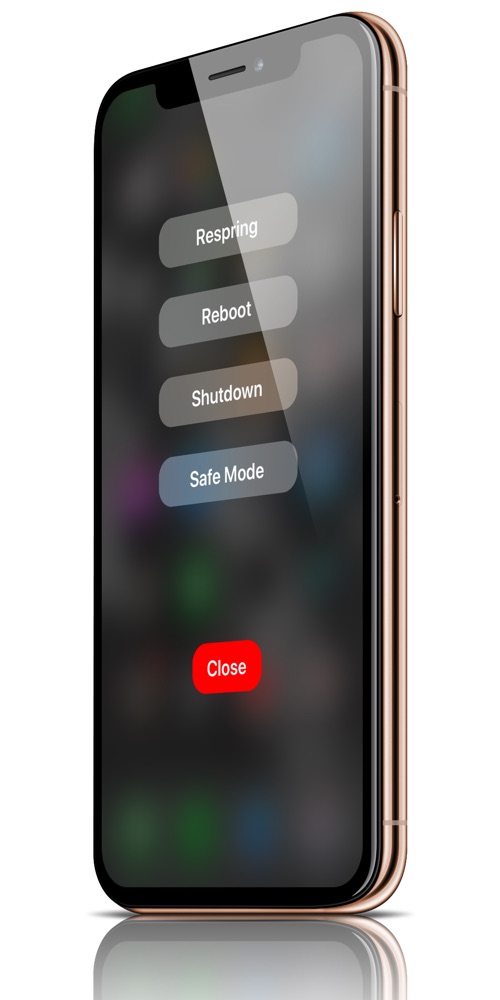 PowerMenuX is a must have tweak for any jailbreak user out there. In addition to adding a beautiful looking minimalistic power menu the tweak adds new options that allow users to Respring, Reboot and Shutdown their device with ease. In addition to these three options users also get the Safe Mode option that enables them to put their device in Safe Mode with ease. Normally these options are not available on iPhone's power down menu and their addition makes the life of jailbreak user much easier. You can download PowerMenuX tweak from Cydia where it is available for $1.50.
ExactTimePhone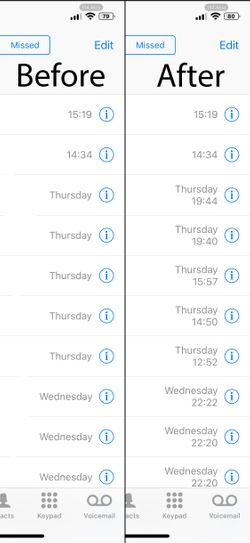 Have you ever noticed when you are looking at the your iPhone's call log on Phone app's recent section you get the time at which you received a phone call. However if you look at a call that was received or made a few days ago you no longer see the time at which the call was made, instead you only see the day it was made on. To see the exact time of the call you have to tap on the 'i' button, which unnecessarily adds an extra step.
ExactTimePhone tweak solves this problem by simply adding the exact time a call was made right on the Recents screen. Great thing about this hack is that it will not remove the day of the call, so you get both date and time at the same place, which is very convenient. You can download the ExactTimePhone tweak for free from the Packix repo.
GlyphAlert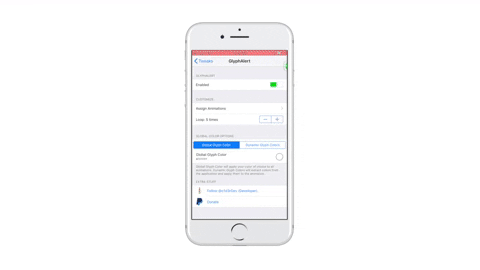 With the new GlyphAlert tweak you can add minimalistic notifications for your iPhone's lockscreen. This tweak adds animated glyphs to notification alerts that are displayed when you receive a new alert. It gives several customization options to users that includes the ability to assign glyphs to specific applications, change color of the glyph based on app, choose from 48 different animations and more. You can download GlyphAlert tweak from 'https://c1d3r.com/repo' and costs $2.00. GlyphAlert also comes with a 3-day free trial.