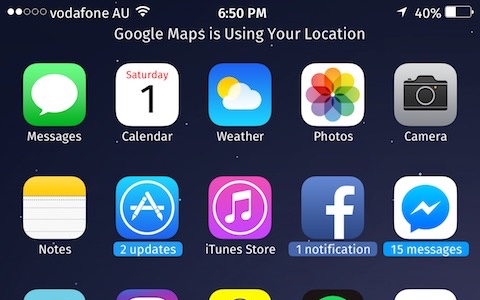 Whenever you are using the personal hotspot feature of your iPhone to share data with any other device or using an app like Google Maps that uses your location, iOS displays a big blue bar on top of the screen. This bar indicates that an app is using a system service and you should be aware about it. While these bars that occasionally appear on our iPhones are important they are very ugly and intrusive at the same time.
The UsageBarX tweak for jailbroken iOS 10 devices aims to make the situation better by making the iOS usage bar slimmer, transparent or hidden altogether. The tweak can be configured from the Settings, which allows users to change the appearance of the usage bar. While we don't recommend hiding the usage bar as it serves an important purpose, it is a good idea to slim it down, confining it to the border of the iOS status bar.
Alternatively, you can make the background color disappear, essentially making the usage bar transparent. With this option you can also see which app is using your location, which is a useful piece of information for many users. The app information is not available with the slim look. Also the transparent design looks better and minimalistic as well.
You can download the UsageBarX tweak from Cydia for free. It fully supports iOS 10 devices.