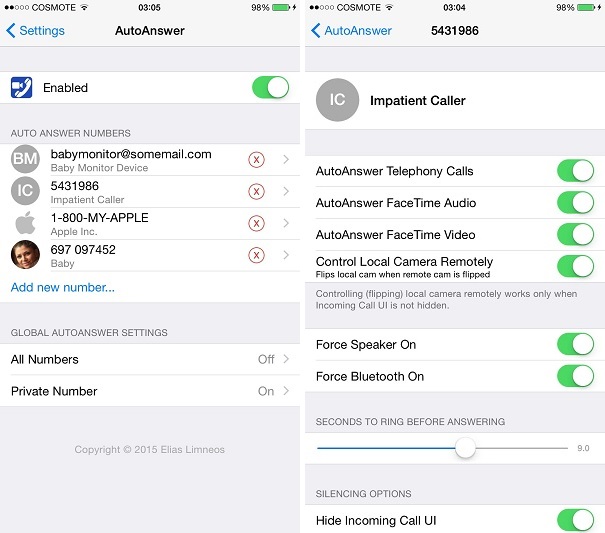 If you have been looking for a way to answer calls from specific contacts automatically then the AutoAnswer tweak is here to help. The tweak lets you choose numbers whose calls will be automatically answered without you having to press the 'Accept' button. It works for all types of calls that includes normal phone calls, Facetime Audio and Video calls. In addition to accepting calls AutoAnswer offers a variety of other features that make it quite useful. Perhaps the best thing about this hack is that you can have different settings for different callers.
For example, you can choose which type of calls should be automatically answered for a certain caller, option to flip local camera remotely for video calls, force speaker and Bluetooth on. Users can even set the time after which the call should be answered by moving the seconds slider.
According to tweak's developer AutoAnswer is useful in many scenarios that includes but is not limited to when you are driving and don't want to press the button to pick up a call, for baby monitoring, as well as video conferencing. You can add as many numbers to the tweak as you want and have different settings for them. The tweak also allows users to have all incoming calls answered automatically. In that case you can assign your preferred settings to all calls.
You can download the AutoAnswer tweak from Cydia for $1.99. It works on all iOS versions including iOS 8.