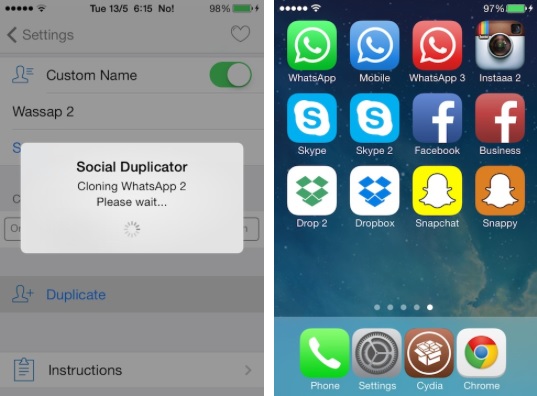 For people who maintain more than one accounts on different social apps switching from one to another could be a major hassle. You have to sign out from the first account, enter your login details and wait for the app to sign in and download all of your data. This is a never ending process, which you have to perform every time you want to switch between accounts.
To solve this problem and to bring multiple account support to different third party applications a new tweak called Social Duplicator has been released. This tweak essentially duplicates the supported app of user's choice and adds its clones to the homescreen. Users can then sign in to these clones from different accounts and just launch the clone that has the account they want to use.
To help users in distinguishing between different clones of an app Social Duplicator features the ability for them to select a different icon color for them. They can also set a custom name of their choice.
Social Duplicator supports a wide range of popular social apps that include Facebook, Instagram, WhatsApp, Dropbox, Snapchat, Tumblr, Skype, LINE, Tango, WeChat, Telegram, KiK, BBM, Viber, LinkedIn and Shabik.
The tweak can be configured and new clones can be added from the Settings.app. Social Duplicator tweak is available in Cydia for $1.99 and supports all iOS 7 devices.
Also check out the Slices tweak that allows users to create profiles within apps.