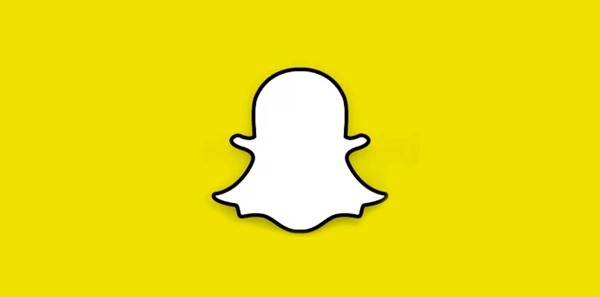 Snapchat is slowly taking over the world as its popularity keeps on growing day by day. If all of your friends are on Snapchat and use it regularly, then it can become a little hard to keep things unique and cool. No matter if you are an expert Snapchatter or a beginner, we have gathered some of the best and most fun Snapchat tips and tricks in this post for you to enjoy. Read on to learn about the 12 fun Snapchat tips and tricks every user should know about.
Fun Snapchat tips and tricks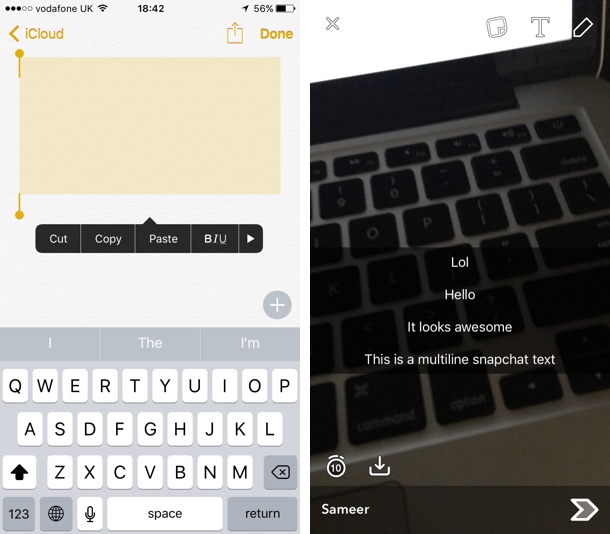 Add more lines to text: Snapchat does not allow users to enter text in multiple lines, as it replaces the return button with 'Done' on the keyboard. There is a clever workaround though. To enter text in different lines simply open Notes app on your iPhone, hit the return key multiple times and then tap and hold in the text area. Next, from the pop up menu tap on 'Select all' button. Now empty area should be copied on the clipboard. Open Snapchat app, take a photo and then paste the empty area copied in the clipboard. You should now get text area consisting of multiple lines. Simply type in different lines before sending the snap.
Switch between front and back cameras while recording: While recording a video snap you can switch between front and back cameras of your device. Simply tap and hold on the record button and then tap on the camera switch button without letting go the record button.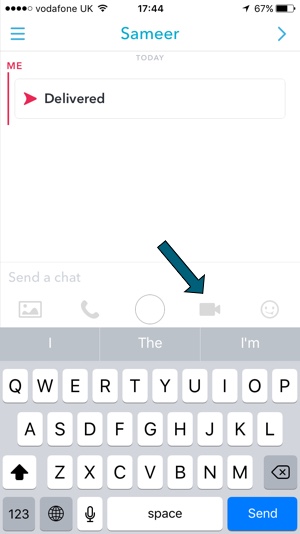 Quickly video call for a live chat: Snapchat recently added a live chat feature that allows you to video call with any friend. Just open their conversation page and hit the movie cam button. You can also send quick video note by tapping and holding the movie button.
Fix emoji on video: You can add an emoji to a video and fix it to a particular spot. Once you have done so the emoji will stay in the place even the camera is moving. To do so simply enter an emoji, resize it and then drag it to the place you want to fix it. Finally tap and hold on it in order to fix it to a place in the video.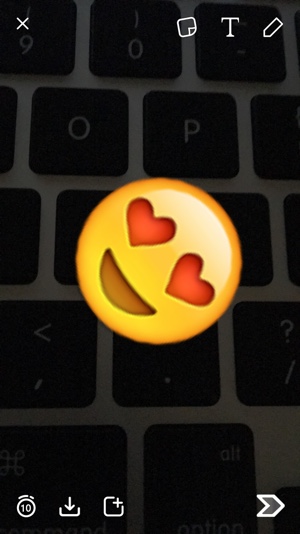 Resize an emoji with pinch to zoom: After entering an emoji to a video or photo simply tap on it and then pinch in or out to make it larger or smaller. You can also rotate them by moving two fingers in rotation.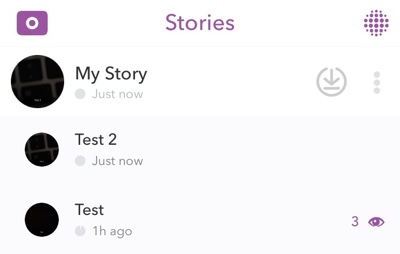 Check who watched your whole story and who didn't: You can see who has watched which parts of you story by tapping on the three dotted button next to 'My Story'. Doing so will list individual images or videos you added to your story, along with view count. Tap on the view count to see who watched which part.
Edit a friend's name: You can change any friend's name on Snapchat friend list. Tap and hold on the friend's name, tap on the gear/settings icon and then hit 'Edit Name'.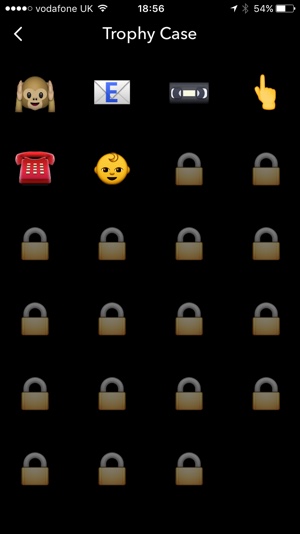 Check your trophies: To check which Snapchat trophies you have won simply open the camera screen and slide down. Then hit the 'Trophy' button located in the top middle of the screen.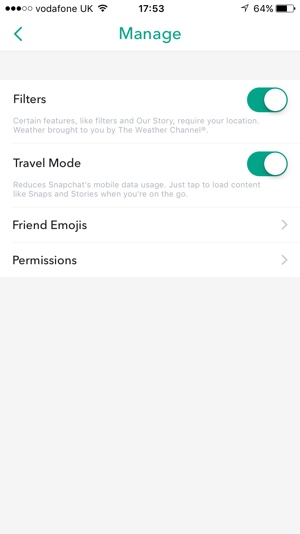 Reduce mobile usage data: You can reduce the amount of data Snapchat uses while you are on cellular internet connection. To do so open the camera screen, slide down and then hit the gear icon from top right corner of the screen. From Settings page tap on 'Manage' option under the Additional Services. Finally turn on the toggle for 'Travel Mode'.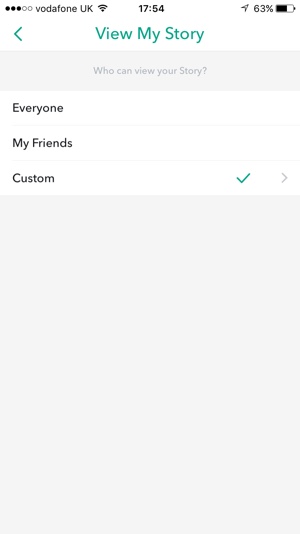 Restrict certain people from viewing your story: You can actually restrict certain friends from being able to view your story. To do so go to Settings page by sliding up on the camera screen and then hitting the gear icon from the top right. Then under 'Who Can…' tap on View My Story and then tap on Custom.
Clear conversations: You can clear conversations by going to Settings (slide up on camera screen and tapping on gear icon) and then under Account Actions tapping on 'Clear Conversations' option.
Send cool stickers: You can send cool stickers to friends in chat view. Simply open the conversation page tap on smiley button, and select the sticker.
Disclosure: iOSHacker may receive a commission if you purchase products through our affiliate links. For more visit our privacy policy page.