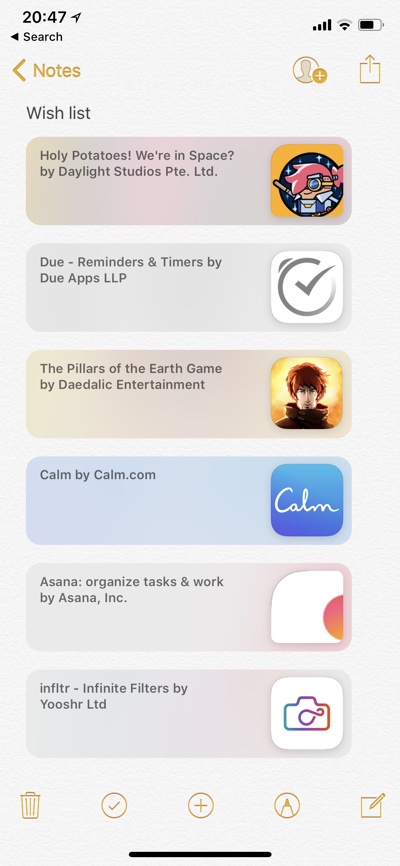 With its redesign of the App Store app, Apple has removed the widely used Wishlist feature of the App Store. With this feature iOS users could put apps they wanted to purchase in the future in a wishlist.
Having a app wishlist was pretty convenient in instances when you saw a paid app or a game and wanted to make the purchase in the future when you had money to spare or the item was on sale. With the feature removed users find it hard to track apps that they are interested in buying in the future.
For those of you missing the App Store wishlist feature, there is a workaround that allows users to put their favorite apps in a single wishlist and get back to them whenever they want. The best part? You don't need any third-party apps to do this.
The trick lies with the 'Add To Notes' feature of the App Store app, which allows users to save an app's link to the Notes app. The saved entry contains icon, name and a link to the app's App Store description page. Read on to learn how you can use this hidden App Store wishlist feature to your advantage.
How To Add Apps to Wishlist on iOS 13 or later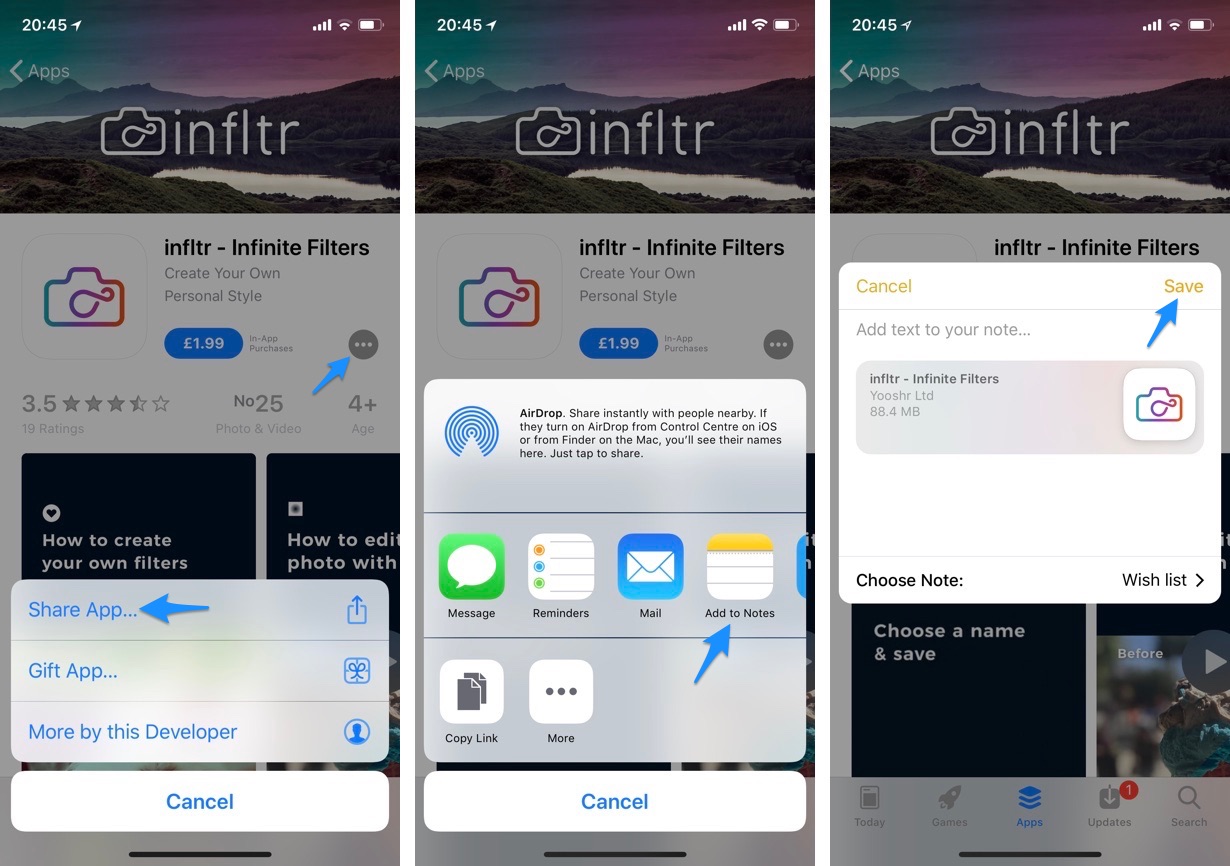 Launch App Store and open the first app you want to add to your wishlist.
Tap on the '…' button and from the menu tap on 'Share App…' option.
From the share menu tap on 'Add to Notes' button.
Since this is your first app you should name the wishlist note, simply add the name where it says 'Add text to your note…'.
After naming the note tap on 'Save' button.
Repeat the same steps for all the apps you want to add to your list. Make sure to select the same 'Wishlist' note every time you add a new entry so all your apps appear in a single note. Your first note should already be selected in all subsequent attempts.
To access the list simply launch the Notes app and open the wishlist note. There you will find a list of apps you have added to the list. Tap on an app to open its App Store page.
So that's how you can have an app wishlist on iPhone and iPad without needing a third-party app. Here's hoping Apple brings the app wishlist feature of the App Store back with future iOS and iPadOS versions.
Disclosure: iOSHacker may receive a commission if you purchase products through our affiliate links. For more visit our privacy policy page.