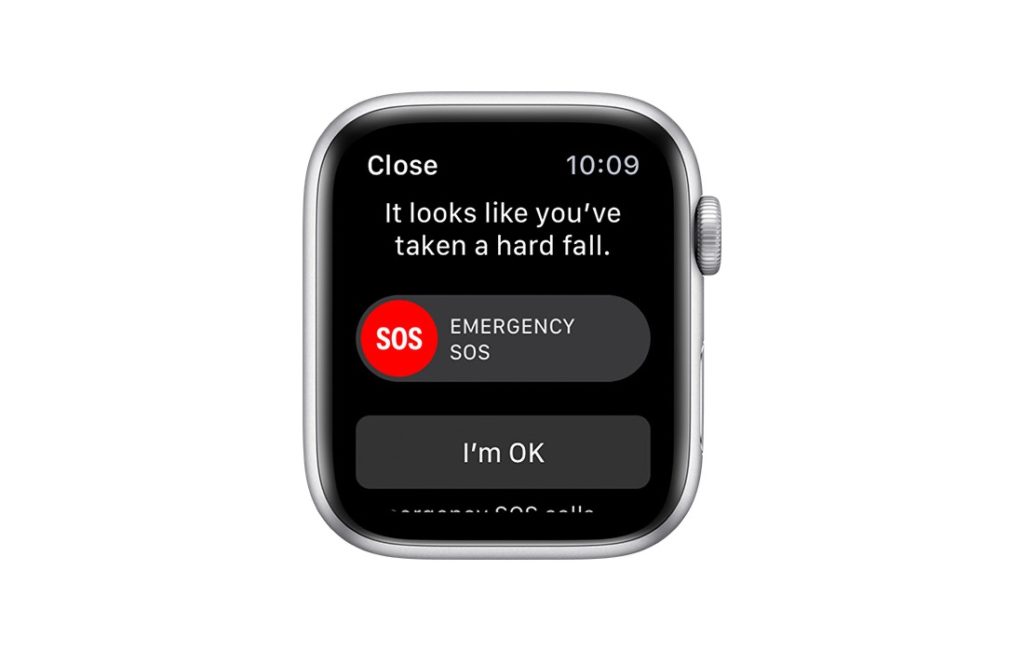 All recent Apple Watch models come with a feature called Fall Detection. This feature is designed to detect if the user has taken a hard fall. Once it detects a fall it automatically contacts emergency services and designated loved ones letting them know about the emergency situation.
Have you ever thought that your watch can make an SOS call in a time of distress? If not, probably this is the time to think this way!
That being said, the Apple Watch Series 4, Series 5, Series 6 and Watch SE fall detection feature is all about your safety and letting your loved ones know that you are in difficulty regardless of your location.
This means whenever you face a hard fall your Apple Watch taps on your wrist automatically, sounds an alarm, and shows an alert sign. And here you have to pick whether to contact emergency services immediately or dismiss the alert.
Who Can Benefit From This Feature The Most?
Research shows that more than one-third of the elderly population over 65 years old fall once a year, at least. Given their age or physical condition, some of the elderly people cannot get up by themselves.
Most often, late medical help worsens their injuries and pain that ultimately leads to serious health problems. However, with the high treatment and hospitalization costs, tech-features like fall detection can give significant support to the injured in a timely fashion as well as minimize health problems.
Apple Watch Fall Detection: How It Works?
The fall detection feature on your Apple Watch is designed to detect falls and immediately connects to other users to help the injured person. There are different technologies that make up the fall detection accurate, such as:
The Accelerometer Sensor: The Accelerometer is a sensor that measures acceleration forces during a fall.
The Gyroscope Sensor: The Gyroscope is also a sensor that detects body orientation after a fall occurs.
Advanced Fall Detection Algorithm: This algorithm identifies whether a fall that occurred is real or not. In other words, it differentiates the hard falls from other daily activities.
Note: Fall detection records your falls and saves them in history. You can check your falls' history by going to Health Data> Results.
Which Apple Watch has fall detection feature?
The following Apple Watch models come with fall detection features.
Apple Watch Series 4
Apple Watch Series 5
Apple Watch Series 6
Apple Watch SE
What Happens When Apple Watch Fall Detection Feature Detects A Fall?
If you are wearing your Watch and your Apple Watch Series 4 or later's fall detection feature is enabled, it will automatically detect a hard fall. After detection, it will do the following actions:
Tap you on the wrist
Sound an alarm
And will display a message "it looks like you've taken a hard fall".
Here you need to take a few actions:
If you are okay after a fall, you can dismiss the alert message by tapping on the options "I'm Okay".
If your watch there is no movement within one minute, it will automatically make a call to emergency services. And if you are moving, your Apple watch fall detection feature will not make the call.
Note: if you turn off wrist detection, the Apple Watch will not make the call automatically. In order to turn wrist detection on, go to 'Settings> Passcode> turn on Wrist Detection'.
If you are not fine, after a hard fall, you can simply drag the 'Emergency SOS' slider in the alert and contact the emergency services immediately.
And in case, you have 'Medical ID' set up on your Apple Watch, this fall detection feature will send a message to your emergency contacts that will include your location.
Note: In order to set up 'Medical ID' on your iPhone, go to Health> Medical ID.
How To Turn On And Off Apple Watch Fall Detection Feature:
This feature will be enabled automatically if you are 55 or older. Make sure you enter the correct age in your Medical ID and Health profile. You can set up a Health profile in the Health app on your iPhone.
Turn on fall detection: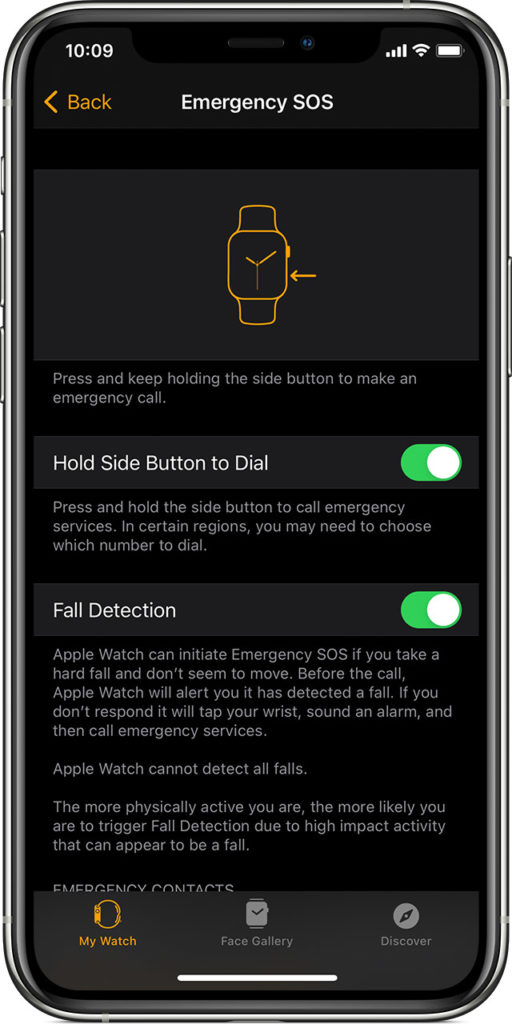 Go to the Apple Watch app.
Go to 'My Watch'.
Tap 'Emergency SOS'.
Turn 'Fall Detection' on (or off).
Was this post helpful? Let us know in the comments below. If your loved ones need help after a fall, share this post with them.
For more tutorials for your Apple Watch, keep visiting iOSHacker.com.
Disclosure: iOSHacker may receive a commission if you purchase products through our affiliate links. For more visit our privacy policy page.