If you are not satisfied with your iPhone's Alarm Clock and you are wondering how to change snooze time on iPhone, then you have come to the right place.
In this article we will talk about alarm snooze on iPhone and a workaround that will make your life easier.
Unlike other smartphones, you cannot change snooze time on the iPhone. Yes, you read that right! But don't worry, despite this restriction, there are two ways that you can use to change the snooze time.
One is using a Clock app workaround that allows multiple alarms, and the second way is using a third-party alarm app. 
So, in today's post, I will discuss how to change snooze time on iPhone…
Before we dive into the topic, we need to answer a couple of things about the iPhone, that you may not be aware of:
How Long Is Snooze Time On iPhone?
iPhone snooze time is 9 minutes. This may seem strange to many iPhone users especially those who have recently switched to iPhone, because other smartphones allow longer snooze time.
Now you must be thinking…
Why 9 Minutes Snooze Time?
The 9-minute snooze time on iPhone alarms is because of the physical limitations of mechanical alarm clocks. So in those classic mechanical clocks setting the snooze time to 10 minutes was not possible. So for some odd reason Apple continued with this trend and also added a 9 minute snooze as standard with no option to change it.
So what's the workaround? Well you can set multiple alarms on your iPhone with intervals of 2, 5, or 10 minutes. And it doesn't even have to be these intervals, as you can choose whatever time interval as you like, as long as it helps you in waking up more effectively.
So, in order to change snooze time on iPhone, follow these steps:
How To Change iPhone Snooze Time In Clock App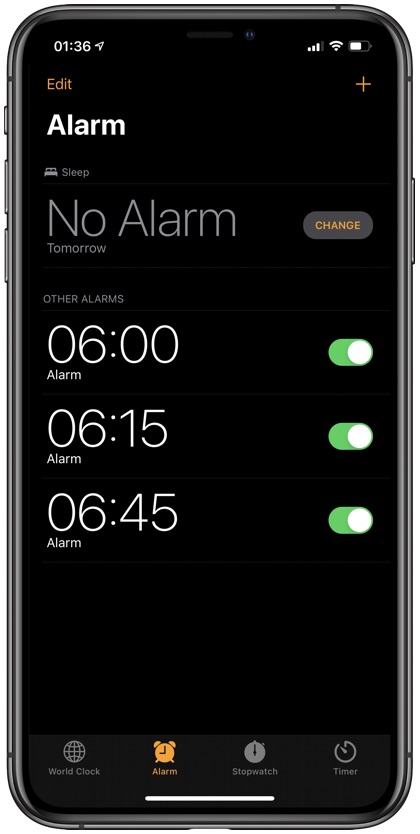 There are several ways and workarounds that you can take advantage of. If your iPhone is jailbroken, then you can download the Sleeper (Legacy) tweak on your device to add custom Snooze time for your alarms, right within the stock Clock app.
If you are not jailbroken, then you can follow the steps below and set multiple alarms at your own selected intervals:
Step 1. Launch the 'Clock' app and go to Alarms section.
Step 2. On the top right corner, Tap the '+' icon to create a new alarm.
Step 3. Turn off the 'Snooze' by tapping the toggle button.
Step 4. Slide up and down the clock and pick the preferred time to set the alarm. 
Step 5. On the top right corner, tap 'Save'. 
Repeat from step 2 and set the time with the number of minutes you want to set as your snooze interval.
Note: In order to set multiple alarms at your preferred intervals, repeat steps 2-5.
Use third-party Alarm apps
If jailbreaking is not an option and you don't want to set up multiple alarms at various time intervals, then you can always download a third-party alarm app on your iPhone. Most alarm apps such as the ones listed below offer multiple snooze options.
So, now that you know how to change snooze time on iPhone, share this method with your friends and family.
For more useful posts for your iPhone, stay tuned to iOSHacker.com.