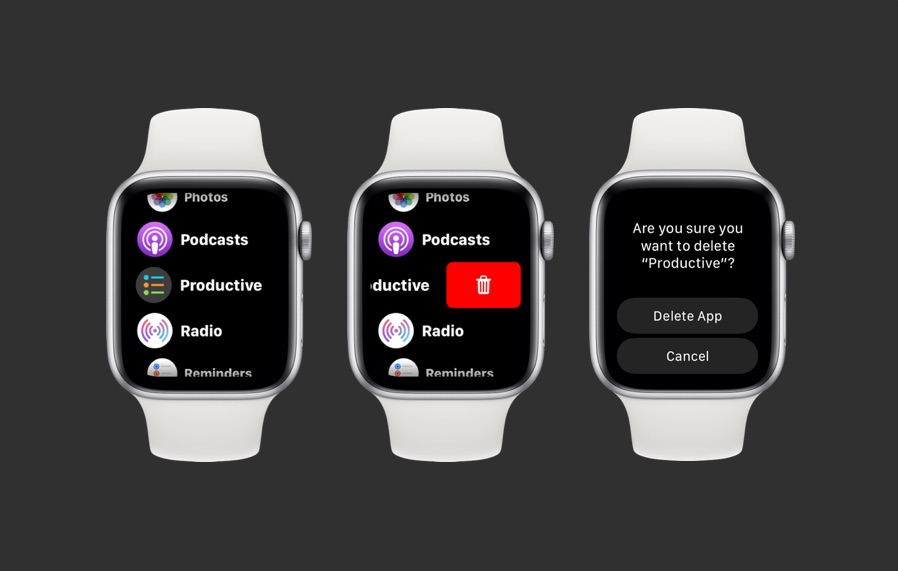 With watchOS 6 Apple has finally allowed Apple Watch users to delete many stock apps from their device. Now users have the ability to remove stock Watch apps that they don't use or if they prefer their alternatives. With this new ability you might be wondering what's the fastest way of deleting Apple Watch apps.
If you use the Grid View layout of the homescreen, then you can simply long press on any app's icon to enter the wiggle mode and then tap on the 'x' button to remove an application. However things are different if you use the List View on your Apple Watch.
How to delete apps in Apple Watch List View
Deleting apps while in List View is also very simple, you only need to follow the few simple steps below.
While in List View search for the app that you want to delete.
While it is on the screen swipe left on it to reveal the trashcan button.
Tap on the red trashcan button to remove the selected app.
Finally confirm by tapping on the 'Delete App' button.
Under watchOS 6, you can delete all third-party apps and many stock apps from your device. Some essential apps such as Messages, Phone, Home, Calendar, App Store etc still cannot be removed. However many stock apps like Breath, ECG, Now Playing, Walkie-Talkie, Stopwatch, Timer, Camera, Remote, Radio and Noise can be removed using the steps outlined above. You can also delete Cycles app using these steps.