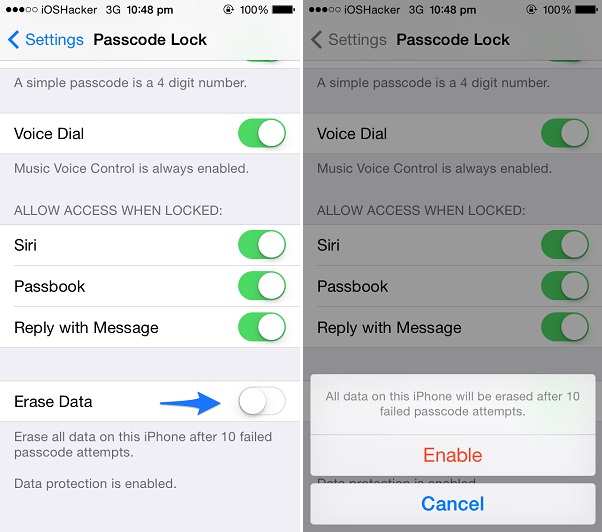 If you are someone who has very sensitive data on his or her iOS device and can't afford it to get into wrong hands then an advanced option found in passcode settings page can help. By enabling 'Erase Data' option you can make your iPhone, iPad or iPod touch erase all the data stored in it when 10 failed passcode attempts have been made. This means the device will not only get disabled at a certain point but it will also delete your private data to ensure it doesn't get into the wrong hands.
To enable Erase Data option and erase all data on your iPhone after 10 failed passcode attempts follow the steps below.
1. On your iPhone or iPad open Settings and tap on the 'Passcode' option. On devices with Touch Id this option will be called 'Touch ID & Passcode'.
2. On the next screen you will find 'Erase Data' option. Simply turn the toggle next to it on.
3. You will be asked to confirm the change, just tap on the 'Enable' button from the menu.
That's it. Now if 10 failed attempts to unlock your device have been made all of your private data will automatically get erased. Just a word of caution though, make sure you always create an up to date backup in iTunes of your device in case you lose your data in this way as otherwise it won't be recoverable.
Also, this option should be used in severe circumstances as the data is erased permanently from the device. If you have kids or friends who regularly get your device disabled by entering wrong passcode then it is better to just avoid enabling 'Erase Data' option.