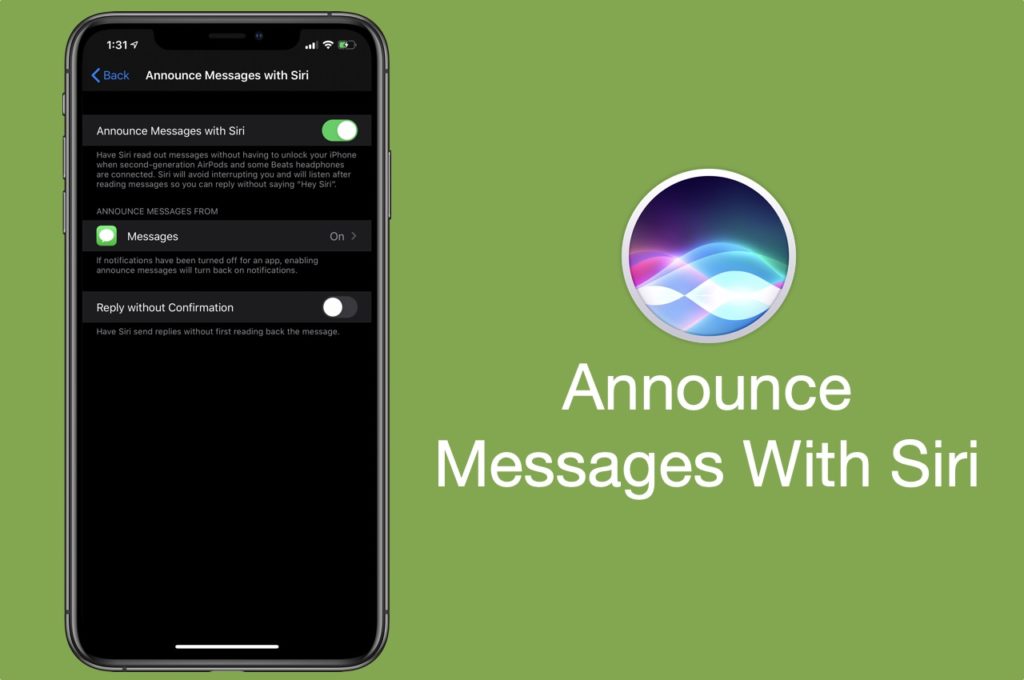 Apple had announced the Announce Messages With Siri for AirPods back at WWDC 2019 when it announced iOS 13. The feature was delayed for several months until it finally made its way to our devices with the release of iOS 13.2 software update. Now that we have the Announce Messages For AirPods feature it is time to take a look at how it works.
In this tutorial we will talk about the new Announce Messages With Siri For AirPods feature and detail how it works, and how you can enable or disable Announce Messages for AirPods functionality. So without any further ado, let's get started.
What is Announce Messages With Siri Feature?
When Announce Messages With Siri feature is enabled and you're wearing your headphones, Siri will read out your messages without you having to unlock your iPhone to read them. After Siri has completed reading your message to you it will also allow you to respond to that particular message with voice.
Great thing about this feature is that Siri will start listening to you immediately after it has finished reading the message, so you can reply without saying 'Hey Siri' first.
Announce Messages With Siri For AirPods requires Apple's H1 chip, so it works with second generation AirPods, AirPods Pro and some Beats headphones.
How To Enable or Disable Announce Messages With Siri For AirPods
So here's how you can enable or disable the Announce Messages with Siri for AirPods feature.
On your iPhone open Settings and go to Siri & Search.
Look for Announce Messages option and tap on it.
On the next page enable the toggle for Announce Messages with Siri and hit the Allow button.
In case you want to turn off this feature disable the toggle.
While it is a useful feature, having Announce Messages enabled can also get annoying. Siri constantly reading out your incoming text messages can degrade your music listening experience, so disabling it is also a good option. It is good that Apple has allowed users to stop Siri from announcing their messages.
You can further configure how the Announce Messages with Siri feature works by tapping on 'Messages' option found under 'Announce Messages From' heading. On the next page you can choose when Siri should announce messages based on the person sending it. You can configure it to only announce messages when they have been sent by favorites, recent contacts, anyone in your contacts or everyone.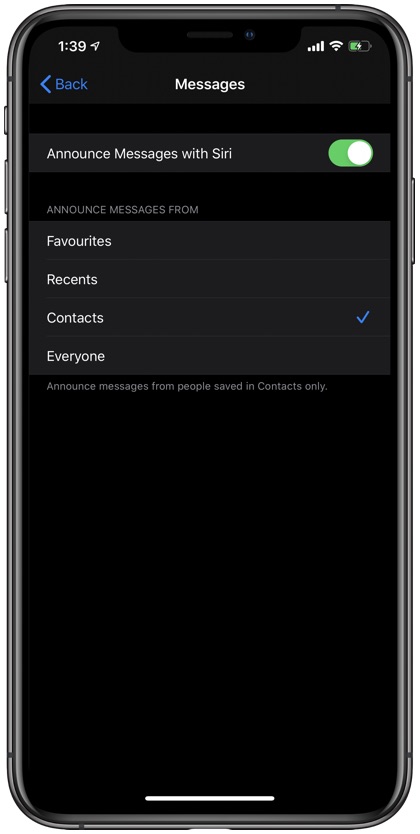 Using the Reply without confirmation toggle you can have Siri send replies without first reading them back to you. This feature can be helpful in saving time.
There you have it, this is how you can easily enable or disable the Announce Messages with Siri for AirPods feature. What do you think about this new feature? Would you use it or disable Announce Messages with AirPods on day 1? Share your thoughts in the comments section below.
Disclosure: iOSHacker may receive a commission if you purchase products through our affiliate links. For more visit our privacy policy page.