iOS 13 brings tons of new features that are being discovered even to this day. One such feature is a cool new gesture that enables users to quickly select multiple items from a list. This new gesture involves two finger swipe down and works in many stock apps that present items in a list view.
How this gesture works is pretty simply. Just open a list page and quickly swipe down on the list with two fingers. As you do you will instantly enter the selection mode and all the items that came under your swipe gesture will get selected. You can then proceed to scroll down on the list and keep selecting items with two finger swipe down gesture or tap on each item to select them. Finally you can either delete the selected items or perform other actions depending on the app you are performing the gesture in.
We have tested this new two finger swipe down gesture to be working in Notes, Mail and Messages. In our tests this new gesture made performing the task of selecting multiple items much faster.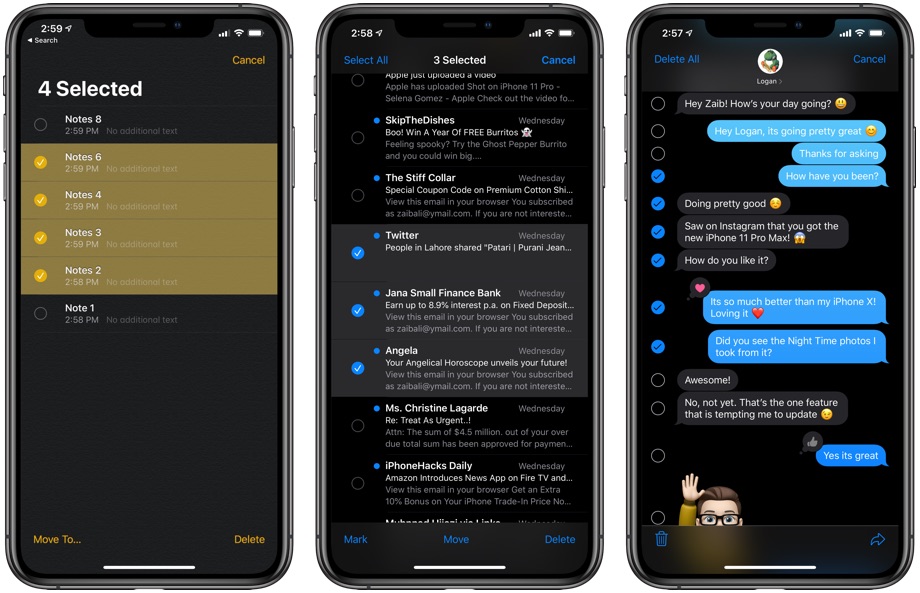 Notes: In the stock Notes app you can quickly select multiple notes from the list view by pulling down on the list with two fingers.
Mail: Similar to Mail you can swipe down on the email list view with two fingers to select multiple items. Once you are done selecting you can then mark messages as read, move the messages to another folder or delete them.
Messages: In Messages app you can use this gesture in two ways. On the message list view you can swipe down with two fingers to select threads and then use the on screen buttons to mark them as read or delete them. You can also use this new iOS 13 gesture while inside a conversation thread in order to select message bubbles and delete multiple messages. Similar to the list view simply swipe down with two fingers to select messages and then tap on the 'Delete All' button to remove them from the thread.
The two fingers selection gesture in iOS 13 is pretty handy and helps in improving the iOS experience by making user's life easier.
What do you think about this selection gesture? Let us know in the comments section below.
Disclosure: iOSHacker may receive a commission if you purchase products through our affiliate links. For more visit our privacy policy page.