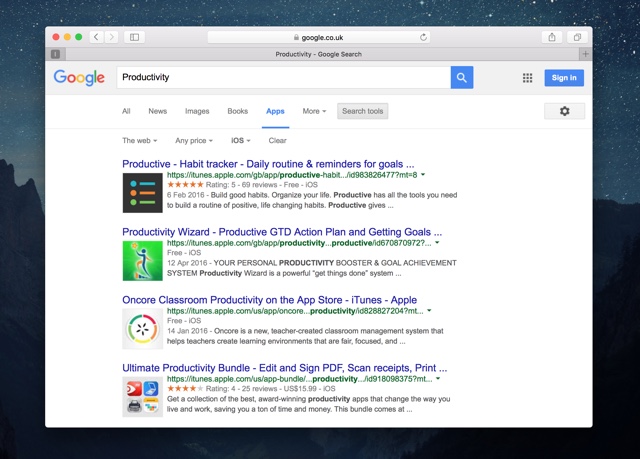 For most people the built-in App Store search found in the iOS App Store or the iTunes App Store is the go to place when they want to find a new app to download. However as it has been pointed out multiple times already, the App Store search isn't the most effective a lot of times. There are few alternatives when it comes to searching for apps in the iOS App Store. One place to find the apps is obvious, however not many people know about it. Google Search, the world's largest search engine also offers an Apps search feature.
Finding iOS apps through Google
With the Google Apps search tab you can find iOS apps by simply typing the keyword in the search bar. All you have to do is open google.com and type in the search keyword, for example 'Productivity'.
Then from the tab bar that also lists items like news, images etc click on the 'More' button and then select 'Apps'. For some users the apps tab might appear right on the main bar, in which case you don't have to go into More section.
Once you have selected apps tab, you will immediately get app search results for you query. The results will also include Android apps. To filter the search results and only show iOS apps, simply click on the 'Search tools' button and then change 'Any OS' to 'iOS'.
Now the search results will update and you will only see apps that are compatible with iPhone, iPad and iPod touch. Clicking on the link will take you to the web version of the app description page, simply click on 'View in iTunes' button to download it.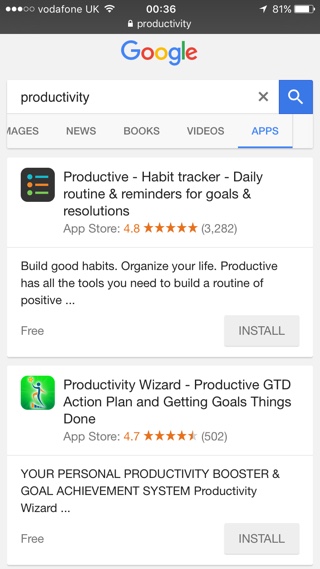 Unfortunately the iOS App Search is not available through the official Google Search app for iOS. However it is available through Google's mobile website that you can open in Safari or any other web browser.