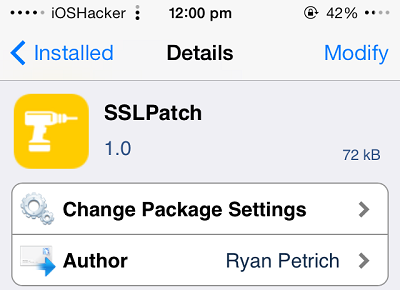 Apple recently released iOS 7.0.6 and iOS 6.1.6 in order to fix a serious security bug related to SSL connection verification. It was an important release because the vulnerability in the operating system caused a major threat to iOS devices. It is important for all iOS users to install the patched version of the software in order to protect themselves from hacks and harmful stuff.
But if for some reason you do not want to upgrade to iOS 7.0.6 then there's another way to get the SSL connection verification patch while staying at the iOS 7 version of your choice. Available exclusively to jailbreak users the SSLPatch tweak applies the same patch Apple has used in iOS 7.0.6 and iOS 6.1.6 to remove the vulnerability of iOS devices. The tweak has been released by infamous tweak developer Ryan Petrich and reportedly works as intended.
Here's how you can install SSL connection verification patch without upgrading your iPhone, iPad or iPod touch to iOS 7.0.6.
On your jailbroken iOS device open Cydia and tap on the 'Search' page.
In the search field type 'SSLPatch'.
From the search results simply install the tweak with the same name and respring your device.
That's it! Now your device is fully protected from the dangerous iOS bug.
P.S If you are not upgrading to iOS 7.0.6 because you want to retain your jailbreak then don't worry as evasi0n7 has already been updated to fully support the latest version.